Milan-Lazio, player ratings: Huge praise for Tonali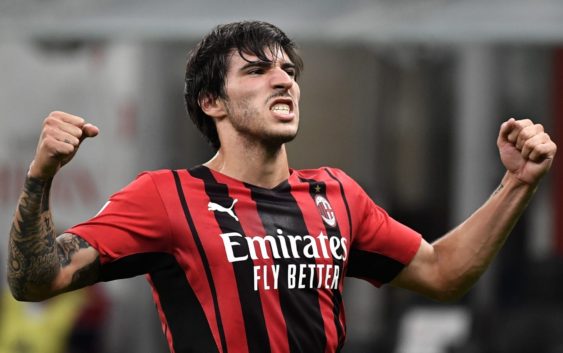 Sandro Tonali was the Man of the Match in Milan vs Lazio with a towering performances according to La Gazzetta dello Sport.
AC Milan dominated Lazio and are now leading Serie A with 9 points after three games. Once again the Rossoneri midfielder Sandro Tonali played a key role in AC Milan's victory and was named the best player of the match. La Gazzetta dello Sport does not spare the praise for the young Italian midfielder. "Tonali cancels Luis Alberto", writes Gazzetta highlighting the importance of the former Brescia.

Present all over the pitch, Tonali orchestrated the game and pinpoint passing. The Italy Under 21 captain "dragged Luis Alberto to the brink of a nervous breakdown and this was the Gattuso-ian part of his game. The pass with which he triggered the 2-0 action speaks of a little of Pirlo in the making".
Gazzetta gives Tonali an 8. Just like Stefano Pioli who outclassed Sarri. Ante Rebic was in top form against Lazio providing two assists. The Croatian was tasked to lead the attack and did very well to set up his teammates. 7.5 for the selfless Rebic as well as for Rafael Leao who opened the scoresheet.

Great performances also from Davide Calabria, Alessio Romagnoli, Brahim Diaz and Zaltan Ibrahimovic with each being awarded a 7. The Swedish striker return to play after nearly five month out with an injury. Zlatan seem ready for Liverpool. 'Only' 6.5 for Maignan, Tomori, Theo Hernandez, Bennacer, Saelemaekers and Franck Kessie. The Ivorian, back on the pitch after the injury pays the wrong penalty execution.
PLAYER RATINGS: Maignan 6.5, Calabria 7, Tomori 6.5, Romagnoli 7, Theo Hernandez 6.5, Kessie 6.5 (74′ Bennacer 6.5), Tonali 8, Florenzi 6 (61′ Saelemaekers 6,5), Brahim Diaz 7, Leao 7.5 (60′ Ibrahimovic 7), Rebic 7.5. Pioli 8.
---
READ MORE: Man City to make €40m bid for AC Milan star