AC Milan to sell three top players in case of Champions failure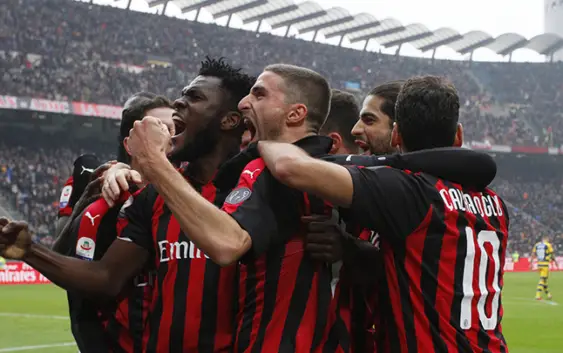 Without qualification to Champions League for next season AC Milan will be forced to sell some important players this summer.
If AC Milan fail to qualify for Champions League, coach Gennaro Gattuso will not be the only one to pay. According to Il Corriere dello Sport, several important players will be sold this summer if at the end of the season the Rossoneri fail to land a place in the top four.
A matter of urgency and need. Without the vital revenues from Champions, Elliott Management's moves on the transfer market would be more limited and the sacrifice of some players would be inevitable. In this case the Rossoneri will need to survive another year of transition despite the economic efforts of the American owners.
Transfer news Milan: Gattuso, Suso, Calhanoglu and Kessie to leave without Champions
According to the Italian newspaper, the players to leave in case of this apocalyptic scenario would be three: Suso, Hakan Calhanoglu and Frank Kessie. All potentially important but expendable, which would allow a healthy capital gain. The decision to sell  the first two is solely and exclusively for technical reasons, while for the Ivorian midfielder the scandalous fight with Lucas Biglia is the main motive.
Tremendous regression for Suso between 2018 and 2019. A great start of the season, as an absolute key man and assist-man. Then the sudden blackout after the year-end physical problems. Calhanoglu, on the other hand, despite the recent bursts of hope, has never fully convinced this season. Almost every time below expectations, in any circumstance and in any form. The departure of Kessie is also related to the permanence of Tiemoue Bakayoko, for whom Milan are willing to spend millions and keep him at San Siro.
As for Gattuso, publicly, the management declares that everything will depend on the outcome of the season. The club has stated that Gattuso will be confirmed in case of fourth place finish and/or victory of the Italian Cup, otherwise he will be sacked. However, with CEO Ivan Gazidis pushing for the arrival of Tottenham coach Mauricio Pochettino it seems like Rino's fate is already sealed. Maurizio Sarri could be another welcomed alternative.
---
---