Cagliari 1-2 AC Milan, player ratings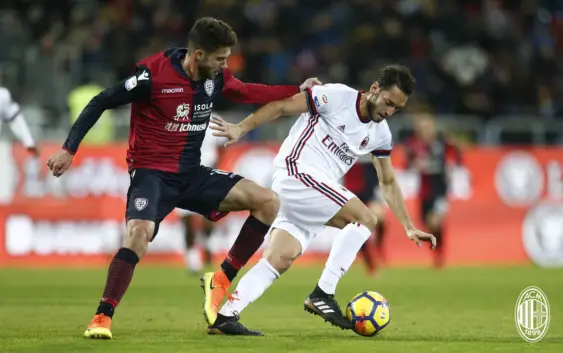 AC Milan win and secure three precious points that will help the team in the standings but also to boost the morale of the squad. Franck Kessie and Kalinic decide the final result.
G. Donnarumma 5,5: Barella's goal is entirely his fault. The shot does not seem irresistible but he seems to read it really bad. Not a decent performance from Gigio but he manages to make a kamikaze save on Pavoletti.
Calabria 7: He dominates Padoin for the whole game. The alchemy with Suso is growing match after match. Provides a big number of crosses and ends the games as left back when he has the task of marking Farago and Cossu.
Bonucci 6,5: In the first half he understands that he can throw long passes to pressure the back line of Cagliari and, often, he finds Calhanoglu. Pavoletti is a dangerous opponent, but he is not intimidated.
Romagnoli 7: A year ago, in Genoa-Milan, Pavoletti demolished him scoring the goal of 3-0 for the Rossoblu. Tonight in Sardinia, Alessio gets his revenge and is rock solid in defense.
Rodriguez 5: A disturbing performance. He does not contribute in the offensive phase and gets in trouble in defense with Farago who overcomes him twice and makes him take a double yellow that will leave him out of Sunday's challenge with Lazio. Where is the player who had done so well in the first part of the season?
Kessie 8: It's a totally reborn Franck Kessie. In the pre-match press conference coach Gattuso demanded the old Frack and the young Ivorian midfielder delivered with two goals. Initially from a penalty kick and 6 minutes later from a close range finish. Furthermore Kessie creates superiority in midfielder and is always present every time AC Milan initiate an attack.
Biglia 6: An anonymous first half for the Argentine, bypassed by the verticalizations of Bonucci. He grows in the second half and uses his body to often neutralize Barella.
Bonaventura 6: Not one of his best performances. Combines well with Calhanoglu but without any obvious result. Cragno manages to save a wonderful shot of his that could have increased the advantage of the Rossoneri.
Suso 5,5: Caged by the Cagliari defense and never able to hurt the opponents. Very few positive notes from the Spanish winger who for the majority of the match remains in the shadow.
Kalinic 6,5: A good performance for the much criticized Croatian striker. He manages to win a penalty transformed in goal by Kessie and minutes later assists Franck for another goal. However his lack of goal scoring power is troubling and by now it's obvious that he is not able to lead the attack of a team like AC Milan.
Calhanoglu 6: A step backwards for the Turkish midfielder transformed into a left winger in recent games. Good physically but bad with his feet.
---
---