Gennaro Gattuso reveals his future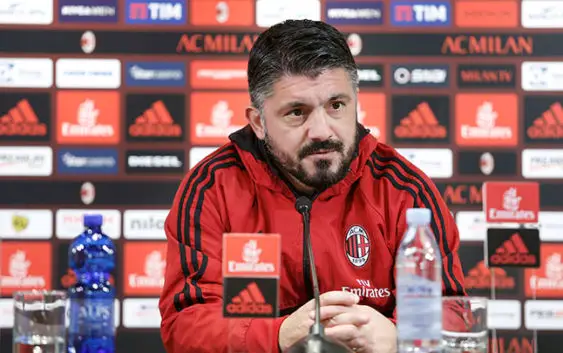 In today's press conference AC Milan coach Gennaro Gattuso wanted to clarify rumors regarding his permanence at the Rossoneri.
For days the future of AC Milan coach Gennaro Gattuso has been a hot topic in Italy. The recent string of disappointing performances and the possibility that Milan may not qualify for Champions League this season suggest that Rino will be sacked at the end of the season. The coach himself encouraged rumors after an enigmatic statement before the match with Sampdoria.
The Italian press later speculated that at the end of the season, even if Milan don't fire him and qualify for Champions, Gattuso would quit to join Roma. His old friend Francesco Totti wants Rino to guide Roma for next season. In today's press conference before Milan-Lazio, coach Gattuso tried to clarify the situation.
"I still hear too much talk about my future while I want to focus on the leage and the Champions League race. This are absurd voices, have you heard Maldini's words? I really appreciated them, they confirm what I said too. I have a two-year contract, the rest is just talk".
"I haven't heard Francesco. I have not head him in the last 3-4 years, in fact I called to give him to with him a happy birthday and that's it. Furthermore I am the coach of AC Milan, it would be unfair and not polite to listen to another club".
---
---