5 Things to know about Hakan Calhanoglu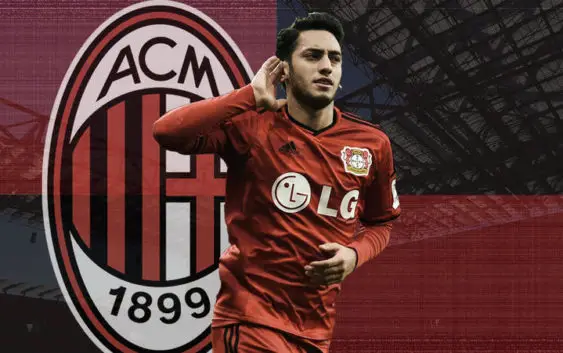 Hakan Calhanoglu is going to be the newest player to join AC Milan in this busy summer transfer window. We present 5 curiosities about the Turkish midfielder.
Hakan Calhanoglu is expected to be Milan's sixth signing this season. The name, surfaced only in recent days, surprised a whole lot but has received enormous consensus among the fans. This is because we are talking about a hugely talented player with a great shoot from distance and one of the best free kick takers in the world without forgetting to assist his teammates. His talents and his genius are well known, but less are some curiosities that we are about to discover together.
1 – ASSIST MAN
Born on 8 February 1994, Calhanoglu is 1.78 cm tall and weighs 69 Kg. His preferred position is attacking midfielder where he can fully express his talents thanks to a very precise right foot. In his career he has played for Karlsruher, Hamburg and Bayer Leverkusen totalizing the beauty of 51 assists. He has a footballer brother, Muhammed, 22 years old, who plays at Gumushanespor (third Turkish series).
2 – MUSLIM
He is a pretty sociable type, single and has no tattoos. The model of the perfect athlete. He is also a practicing Muslim, as shown by his visit to Kaaba in Mecca in 2015. At the time of Hamburg he suffered psychologically despite a good season. The reason? Strong depression, which forced him to move to Bayern Leverkusen, due to stressed by aggression from fans, including vandalism of his car.
3 – DISQUALIFICATION
On 2 February 2017, TAS disqualified Calhanoglu for four months due to a pre-contract signed in 2011 with Trabzonspor while he was playing at Karslruhe and which he did not respect. Facts dating back to 2011 were judged only this year forcing the 23 year old to a long period of inactivity during which he even renounced his salary. His absence cost a lot to Bayer Leverkusen who finished in twelfth place, out of any European league placement. The German club proved to be Calhanoglu dependent, with only four wins in the 15 games played without him. Before being disqualified, he had totaled 22 appearances scoring 7 goals and assisting his teammates 7 times.
He has both Turkish and German passports, being born in the German city of Mannheim. He chose the Turkish nationality unlike Mesut Ozil. Of the 8 goals scored in 26 appearances with the national team, 5 are scored in friendly matches, while those scored in official games were against the Czech Republic, Croatia and Ukraine. He is not part of the national team since 12 November because of the TAS disqualification. In 2014 he was involved in an ugly situation with his teammates. He and Toprak were threatened with a gun by Gokhan Tore, clearly drunk.