Neymar and Donnarumma had to be pulled apart after PSG loss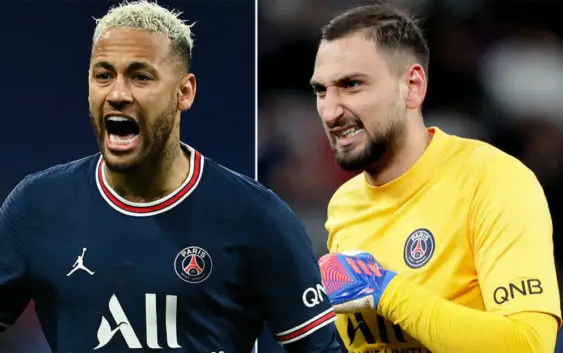 Neymar and Donnarumma had to be pulled apart in the PSG dressing room after a heated exchange of words that escalated.
A disastrous night for Paris Saint-Germain in Champions. Carlo Ancelotti's Real Madrid overturn the initial disadvantage and progress to the next stage thanks to three goals from Karim Benzema. Former AC Milan goalkeeper Gianluigi Donnarumma was the other big protagonist of the night but on a negative sense. After a huge mistake that cost PSG the first goal, Donnarumma had a fight with Neymar at the end of the match.
Marca reports that Neymar and Gianluigi Donnarumma had to be separated by their teammates after a heated exchange of words in the Paris Saint-Germain dressing room following their team's 3-1 defeat to Real Madrid on Wednesday.
The incident reportedly occurred when the Brazilian forward reproached the PSG goalkeeper for his error in Karim Benzema's equaliser, when Vinicius Junior took advantage of a misplaced Donnarumma pass to pull Real Madrid level at 1-1.
Donnarumma reminded Neymar that Real Madrid's second goal came after a mistake from the Brazil international and everything escalated, with the two players almost coming to blows before the pair was pulled apart. However this was not the only incident that took place at the Stadium Bernabeu stadium.

After the game, PSG president Nasser Al-Khelaifi and sporting direct Leonardo stormed towards the referees' room, accusing the Danny Makkelie of not giving a foul on Donnarumma in Benzema's challenge in the build-up for Real Madrid's' equaliser. Al-Khelaifi reportedly threatened the referees, shouting "I'll kill you", before police and security intervened to bring the incident to an end.
The referee's report on the incident reads: "The president and the technical director of PSG showed aggressive behavior and tried to enter the referees' changing rooms. When the referee asked them to leave, they blocked the door and the president deliberately struck the flag of one of the assistants, breaking it".
---
READ MORE: Sassuolo lower asking price for Berardi