The true reasons why AC Milan pulled the plug on Ralf Rangnick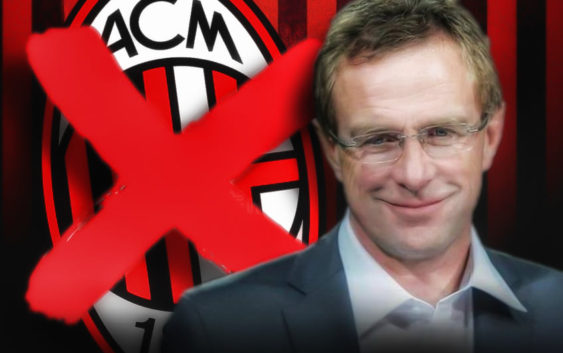 After months of talks AC Milan made a sensational U-turn ditching Ral Rangnick to renew Stefano Pioli's contract.
In a matter of minutes AC Milan won the match against Sassuolo, qualified for Europa League, ditched Ralf Rangnick and announced the contract renewal of Stefano Pioli. The fans were quite shocked considering that the Rossoneri had been in talks with the German coach since December.
AC Milan CEO Ivan Gazidis moved behind Boban and Maldini's back negotiating directly with Rangnick. Without consulting either Zvonimir Boban or Paolo Maldini, the men running the sporting side, Gazidis had reached an agreement with Rangnick. Boban was later sacked after accusing Gazidis of being "disrespectful", "inelegant" and betraying "the AC Milan style", while Paolo Maldini publicly slammed Rangnick for "not being the right profile for AC Milan".
Obviously, it came as a surprise that after all of this AC Milan and Ivan Gazidis made a U-turn totally abandoning their idea of a summer revolution with Ralf Rangnick in charge. But what really happened?
The parties had reached a three-year agreement with Rangnick set to earn 5 million euros per season covering the role of coach and sporting director but without signing anything. The German was working to complete his staff with Marvin Compper (former Fiorentina and Red Bull Leipzig player) to to become his right hand man. The Rossoneri had also contacted a coach of lower categories to make him part of Rangnick's staff. Thus the plan was clean.
At the start of the new year cracks began to appear. AC Milan were annoyed by German's continuous comments on the media and Rangnick's strong character started to become a problem. The 62-year-old admitted talks with Milan and openly pressured the club to have full decision making power.
"There has been interest from AC Milan but with the Coronavirus situation there are other things to consider, besides thinking if Ralf Rangnick is the right man for them or vice versa. If theoretically I have to think about going somewhere else, I should to be able to do things my way", he declared in an interview with Mitteldeutsche Zeitung.
Paolo Maldini immediately blasted Rangnick for commenting on a club he wasn't part of. "Speaking of a role with full managerial powers in both the sporting and technical areas, he invades areas where professionals with regular contracts work. I have some advice for him, before learning Italian he should review the general concepts of respect, as there are colleagues who, despite the many difficulties of the moment, are trying to finish the season in a very professional way, putting the best of Milan before their professional pride", declared Paolo Maldini. Elliot started to reflect.
The AC Milan owners reflected again after the Coronavirus stop. The Rossoneri started to win games at regular pace. The squad not was only winning but also playing attractive football. Stefano Pioli did a great work with the athletic preparation of the squad and the growth of several players was obvious.
With Rangnick in charge, Elliot was planning a European Milan, quite different from the Italian team of recent seasons. Now Elliot is favoring a normality that according to the management now AC Milan needs. The positive results of the squad forced Elliot to rethink their initial plans. The coach this summer would have less time the usual to prepare for the next season and Rangnick would definitely need time to impose his ideas. Thus the management thought that signing three or four players in the summer transfer window would be better than a total revolution (Rangnick's initial plan).
Considering all these factors AC Milan decided to pulled the plug on Ralf Rangnick deal. It is Milan who changed idea and not Rangnick to refuse the Rossoneri because he didn't want to work as sporting director with Pioli as coach. There was never made such a proposal. AC Milan agreed to renew Stefano Pioli's contract on Monday evening and on Tuesday informed the German on their decision. This is the whole backstory of how AC Milan opted to continue with Pioli rather than sign Rangnick. Now the club must decide the future of Paolo Maldini and Frederic Massara and understand whether their work is compatible with that of Geoffrey Moncada and Hendrik Almstadt.
---
READ MORE: AC Milan's worst signings ever