TMW: Leao sabotaged AC Milan's agreement with Lille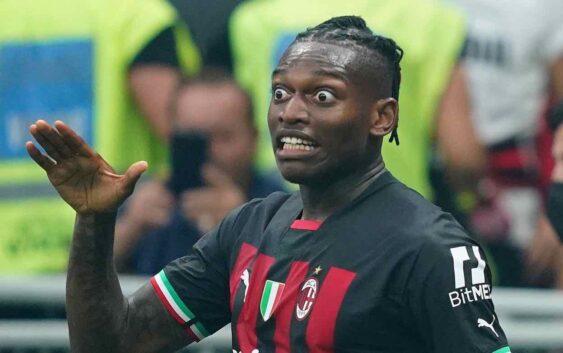 TMW reveals that AC Milan and Lille had reached an agreement regarding the hefty fine that Rafael Leao must pay to Sporting Lisbon.
The meeting staged at Casa Milan between Maldini, Massara and Rafael Leao's French lawyer created a lot of chaos and uproar. As previously mentioned, this summit to discuss the renewal of the Portuguese left winger had to be chaired by four parties: the Milanese leadership, Leao's lawyer-agent, his father and Jorge Mendes in a videocall.
In the end, the meeting was skipped, and only Ted Dimvula presented himself in front of Maldini and Massara. The reasons are unknown, but the dialogue with the French lawyer nevertheless led to important clarification. Rafael Leao's renewal requests are equal to 7 million euros plus one million in bonus per season, in addition to the payment of half of the fine to Sporting Lisbon.
Excessive demands, which Milan are not willing to satisfy at the moment. The Rossoneri are ready to push for a salary of €6 million per season plus bonuses. It is unclear whether the required 7 million can be reached with additional benefits. Now, however, it is clear that the main obstacle to the contract renewal lies in the legal compensation that the player owes to Sporting Lisbon.
A few days ago Paolo Maldini had declared that AC Milan must remain extraneous to these facts, because they are not involved in any capacity with Leao's transfer from Sporting Lisbon to Lille. However, TuttoMercatoWeb reports a very interesting backstory. AC Milan already had an agreement with Lille!
TuttoMercatoWeb revels that months ago AC Milan and Lille had agreed to pay together the 19.5 million euros to Sporting Lisbon. The two clubs would have practically come to terms, dividing half the figure each. The goal was to not put anything on Leao's shoulders.
Obviously, explains TMW, Milan would have acted in this way, sure of Leao's contract renewal which should had taken place between February and April. At that time the figure established for the extension was nearly €5 million per season. However, something has delayed everything, and the blame is attributed to the player, who in the same period signed for the double power of attorney, sabotaging the Milan, by attributing the resolution of his legal affairs to Ted Dimvula, putting Jorge Mendes in the background.
Part of the blame is also attributed to the Rossoneri who did not rush the affair because they were convinced that an agreement would be closed immediately. Now, the situation has changed. The player's request has risen to €7 million plus bonuses and the Rossoneri care hesitating to accept such conditions. According to the same source, the probability of a non-renewal for Leao is now higher even though AC Milan remain the priority choice of the Portuguese winger.
---
READ MORE: AC Milan hold meeting with agent of Chelsea striker