5 Talking points after Milan vs Juventus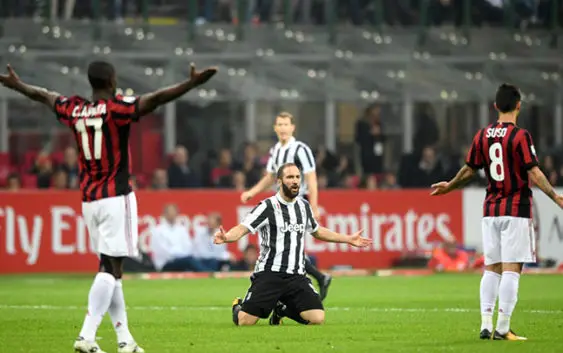 It's been a hard October, but the season goes on. acmilan.com presents 5 talking points after yesterday's AC Milan vs Juventus.
1 – MISFIRE
The good performance against Juve was in line with AC Milan's October: uneven throughout the 95 minutes but organised and brave. Vincenzo Montella and his team showed the Rossoneri have actually assimilated this system of play. And things add up in this sense. Although, they don't when we talk about decisive moments of the match and goals. AC Milan misfired as the score was 0-0 against Roma, 1-1 in the derby and both before and after Higuain's first goal of the evening at San Siro. Three spurn opportunities to learn from, to reflect on and to analyse. Ready to restart with no regrets
2 – CRUCIAL WEEK
It's really important to do well before the International break for an untroubled two weeks that separate us from the next Serie A match. That's why the Rossoneri have to focus on what needs to be done rather than what was needed in the past. Wins and goals in Atene and Reggio Emilia could be the trigger for an unworried break and to end this 2017 with heads held high as AC Milan deserve.
3 – THE GOALS CONCEDED BY AC MILAN
At some point, they struck. rightly so and finding great goals. Dzeko's net, Icardi's first goal and Higuain's brace all have something in common. They all came from great plays by top players, all great shots that grazed the post and went in and all came when AC Milan looked in control. There's, of course, the opponents' skills but a lesson to be learnt by our team: when these top players are cruising around our danger area, losing focus even for a moment could be costly
4 – KALINIC'S START TO THE SEASON
Nikola Kalinic is the talk of the media and the fans after the match against Juve. His summer preparation has not been consistent, this has to be said. He joined the club at the end of the transfer window in the final days of August and he started October with an injury. He can't be in best shape, in spite of all this he scored three goals and won a penalty against Spal, in the space of 7 games he found a starting berth.
5 – KALINIC IN AC MILAN V JUVENTUS
Buffon's deflection was decisive for Kalinic's effort to bounce off the crossbar. He went close twice after two great crosses whipped in and which the Croatian couldn't latch on to, only just. The truly missed opportunity was when the score was still 0-0 with a mishit volley from inside the box. It doesn't mean he's in the running for a medal, but he can't be even singled out for heavy attack. Both he and the team need to improve in the final third of the pitch and need to shoot more like Vincenzo Montella said after the match against Juve.
---
---