5 Things we learned after Torino vs Milan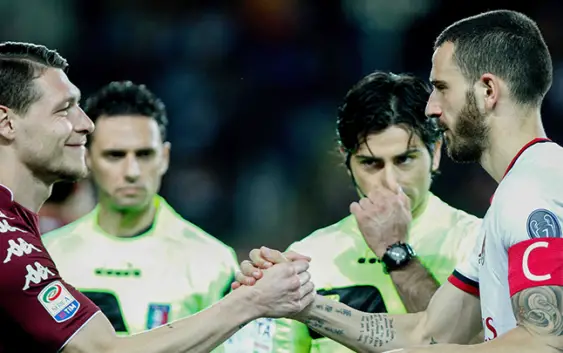 The goal for 1-1 came as soon as the Rossoneri had taken control of the game. It's the fourth consecutive draw for AC Milan in the league.
BETWEEN THE FIRST AND THE SECOND HALF
A not so exciting or spectacular AC Milan ended the first half in the lead. But the Rossoneri were in control of the game, comfortably handling the ball and in the straight face-to-face with the opponents. Even the first five minutes of the second half, with Gattuso's men in full possession, had raised hopes. And then…
THE SECOND HALF AND THE FATAL MOMENTS
A few minutes spent with Captain Bonucci calling the bench as he felt pain and those minutes just before Lucas Biglia leaving the pitch, both immediately pre and post: these were the tight spots when AC Milan lost their landmark and the control of the match. And during these moments, Torino scored, a goal, however, resulting from a corner kick, quite unusual: last time the Rossonerihad conceded this goal was in December, 4 months ago, against Verona.
RINO, THE POINTS ARE 34
Rino Gattuso completes "his" full round, with 34 points won under his leadership. Only Montella and Clarence Seedorf did better than him. Vincenzo Montella (first half of last season) with 39 points and Clarence Seedorf, basically in line, with 35 points in the second half January-May 2014.
JACK's SIXTH
Four goals at San Siro and two away. Jack is back in top form. Some criticism after few games that, maybe, he did not plat at best but not so negatively (as someone claimed) …. and Bonaventura is back again! From the beginning of December to date, he scored six goals. And it could have been seven, thinking back to the final minutes of the match against Sassuolo: if only Consigli…
GIGIO AND ABATE
Donnarumma catalyzes, he makes the headlines, all spotlights are on him during various events of the match. Gigio's save is the news, the trendsetter. On Wednesday too: AC Milan's goalkeeper made a great save on Ljajic when the score was 1-1. But the last shot of Torino v AC Milan was the post hit by Ignazio Abate, when the Rossoneri were one man up, and with the entire stadium holding its breath throughout the flight of the shot.
---
---