QS: AC Milan to lose 3 top players without Champions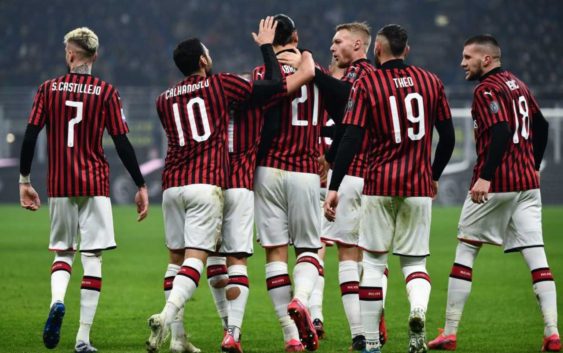 AC Milan risk losing three important players if at the end of the season the Rossoneri will not qualify for Champions League, reports QS.
Lazio thrashed AC Milan 3-0 yesterday at the Olimpico stadium. Despite the controversy on their second goal, Simone Inzaghi's side were clearly superior on every aspect of the game. The Biancocelesti exposed once again AC Milan's inability to score in Ibrahimovic's absence.
The 3-0 defeat against Lazio has landed the Rossoneri in 5th place in Serie A standings with 66 points after 33 rounds. Stefano Pioli's squad is tied with Napoli and Juventus while Atalanta have claimed the 2nd place with 68 points.
At the most crucial phase of the season AC Milan find themselves out of the top four and with Champions League participation at serious risk. If at the end of the season the Rossoneri don't book a place in the top four they risk losing some of their big stars claims Quotidiano Sportivo.
QS report that Gianluigi Donnarumma, Hakan Calhanoglu and Alessio Romagnoli will leave if AC Milan don't play in Champions League next year. An eighth consecutive year out of Champions would be devastating for the club's finances. The Rossoneri would not be able to accommodate the salary demands of these three players.
The current contracts of Donnarumma and Calhanoglu expire in one month and both players have rejected AC Milan's renewal proposals. The Italian goalkeeper currently earns 6 million. The Rossoneri have offered to make him the second highest player in Italy at €8 million per season but he's not pleased. Similar situation for the Turkey international. AC Milan have offered Calhanoglu a five-year contract at around €4 million per year while the attacking midfielder wants 5 million.
A bit different the circumstances for Alessio Romagnoli. The AC Milan captain still has one year remaining in his contract. Just like Gigio and Hakan, he too has rejected Milan's renewal proposal. The club wants to avoid another similar situation and have decided to sell him rather than meet his contract demands of 6 million per season.
---
READ MORE: AC Milan agree transfer for new goalkeeper