Gattuso: "This club is a prefect machine, we paid Andre Silva in advance"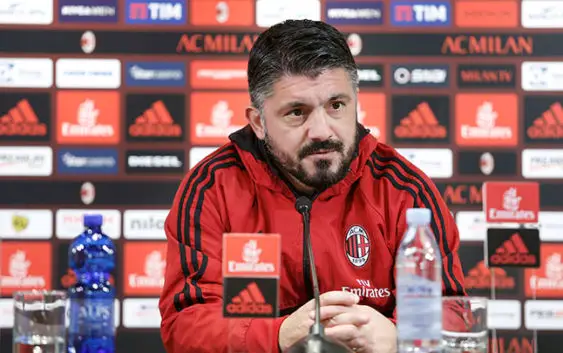 Coach Gennaro Gattuso and Ricardo Rodriguez addressed the media ahead of the return match in Europa League against Ludogorets.
Everything is almost ready for the AC Milan v Ludogorets return match. On this Wednesday at Milanello, coach Gattuso alongside Ricardo Rodriguez introduced the Europa League tie to the media to take place at San Siro on Thursday 22 at 9:05 PM. Just before the last training session ahead of the second leg of the Round of 32, this is what the boss said:
FEET ON THE GROUND
"We will work on the technical and tactical aspects of the match today. My biggest concern is that we underestimate our opponents. I must convince the boys that it won't be easy. The 0-3 in the last game can be misleading. We must respect Ludogorets, they have more than one strong player who can give us a lot of trouble and, unlike them, we have everything to lose. We don't dare to think about Friday's draw or to go all the way in Europa League, we just focus on tomorrow's match. I have to improve too, my priority is to keep getting positive results and improve the team.
THE TEAM'S FORM
"We can't make mistakes in any of the three competitions. In the league, we lost many points on the road both with the previous management and with me. In Europa League or Coppa Italia if you make a mistake you are out. Now everything seems easier but it's not true. Playing so many games is affecting our physical condition, which is natural. Tomorrow I'll allow some players to recover because some of them need it. I'll field the team based on that.
THE RUMOURS CONCERNING THE CLUB'S MANAGEMENT
"Rumours do not affect us. This club is a perfect machine in terms of organization. Everything is working well and I don't see why we should worry. We don't speak about problems that don't exist. When I talk to Fassone and Mirabelli, thank God, they tell me that everything is fine. For instance, André Silva's transfer was fully paid two months in advance, which means that money is not missing. Even FC Porto were surprised and that's a great sign.
THE YOUNG FORWARDS
"Cutrone is 20 years old. It's different when you have that age in terms of recovery. He's playing a lot, but yesterday he was not part of the group that worked separately. He trained at full speed. He is in good condition". On André Silva: "He trains so hard that sometimes you need to stop him. He is always one of the last players to leave Milanello. What we saw in the last 20 minutes against Sampdoria is the real André Silva. He will soon score and that will help him to relax.
LOCATELLI AND RODRIGUEZ
"Locatelli is a strong young man. He has a lot of quality and should not lose the enthusiasm. We need him. He is very technical, but he can improve his physical game. He should keep working hard. He has everything he needs to become a top player". On Rodriguez: "He can do much more. He has strength and technique. He is a player of great experience and has a strong mentality. He is very humble and a real machine on a physical level".
Ricardo Rodriguez also spoke about our next opponents in Europa League and besides listening to the coach's suggestions, he also replied to him at the press conference at Milanello. These were the words from the left back:
"The coach is right. Of course, I can do more and I'm trying. I will do my best to keep improving, as he wants. As a team we are doing well, we are playing at a high level and we continue to win. We have to go on like this and I would like to keep playing. Now we have to keep our feet on the ground and work hard, focusing on one match at a time. Ludogorets are fast. We know this, we must anticipate them and make it difficult for them. We must play focused during 95 minutes". On his penalty missed against Sampdoria: "I missed the penalty but it was also a good save by Viviano, I congratulate him. But I don't hide, if there is an opportunity to take a penalty I'll always be there willing to step up. The coach immediately backed me up afterward and that was great".
---
---