Gazzetta: AC Milan 5-1 Fiorentina, player ratings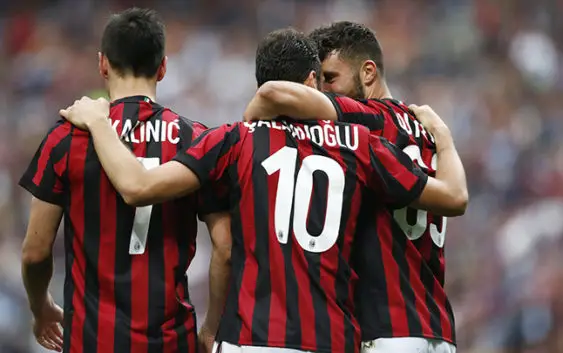 The Rossoneri win and qualify for next season's Europa League group stage. Mission accomplished thanks to some great performances by certain AC Milan players.
AC Milan beat Fiorentina 5-1 re-finding goals and enthusiasm, but above all very positive performances from some players who in the last period had not offered their the best. Merit of coach Gennaro Gattuso, able to encourage the players to overcome the last obstacle for this season that proved to be less difficult than expected.
As usual, La Gazzetta dello Sport has published the ratings for each AC Milan player part of yesterday's game. Many Rossoneri players have been rewarded with positive votes: Calhanoglu takes the Man of the Match award, with a 7.5 on the scoreboard due to the splendid equalizer and some excellent plays and assists that help Milan to dominate the Viola. Same rating for Cutrone, who scores a double that takes him to 10 Serie A goals for this season. Good display also by Bonaventua (7) crowning an excellent personal season with the wonderful last goal of the match but applause also for Kalinic who finds the back of the net after a long negative period.
No flops among the boys of Gennaro Gattuso, but for some there is place for considerable improvement: Ricardo Rodriguez was too shy in Simeone's goal does not deserve more than a 6, as well as Locatelli, still not incisive in the control room and an Andre Silva (6) increasingly out of Rossoneri plan's for next season.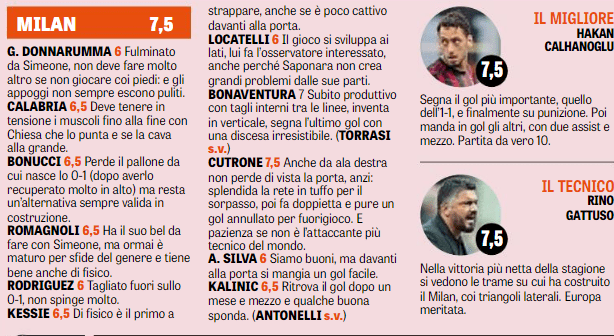 ---
---