Kaka on Liverpool match, how Milan can win, Donnarumma's farewell and more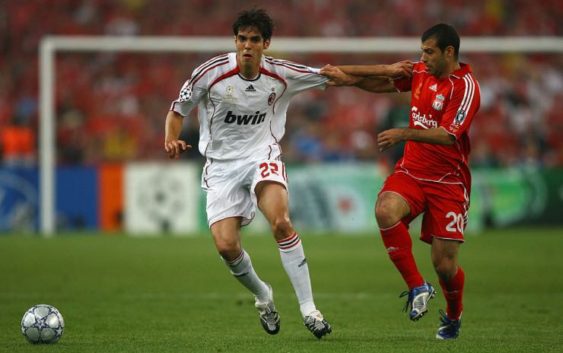 Ricardo Kaka talks about AC Milan's Champions League debut against Liverpool, their qualification chances, Pioli and much more.
Only one day left for AC Milan's return in the Champions League. After many years, the Rossoneri will make their debut tomorrow at Anfield against Jurgen Kloop's Liverpool. A prestigious challenge that echos history, tears and joys. A challenge that Ricardo Kaka has had the chance to experience on several occasions. The first between the frustration of having lost everything in a few moments, the second with the taste of revenge and victory.
Interviewed by La Gazzetta dello Sport, the former Brazilian attacking midfielder recounted those moments and talked about today's AC Milan, expressing a lot of confidence in Stefano Pioli's men.
The finals of 2005 and 2007: "Those two finals are football. The way we lost in Istanbul, the revenge and the hunger with which we returned. 2007 was the perfect year for me, Champions League winner as top scorer, Golden Ball and FIFA World Player. But I keep everything, even the defeat two years earlier, because it taught me so much. At the end of the match I was wondering "Will I have another chance? Will I still be able to win a Champions League? ". You all know how it went…".
His feelings about the match: "So let me explain: it will be very hard, but there are all the ingredients for a great performance. There is Ibra who turns almost forty, there are many young talents who will be able to compete with an opponent of the highest level. It will be an important test for everyone, even for the club that will be able to understand on which elements to count on in the coming years".
On Liverpool: "I saw the 2-0 match against Lazio, Milan dominated by playing aggressive, fast, always proactive football. There are many variables to consider, the long-awaited return and the fact that Pioli has never faced the final phase of the Champions League will weigh on. But if Milan are solid and compact like on Sunday, we will have fun. Much will depend on the ability to read the first minutes of the match. The intensity of an English top team like Liverpool is different from that of the Italians but this is the beauty of the Champions League. You cross schools different from yours, you readjust yourself, interpreters".
What can Milan have more than Liverpool: "First of all, a nice mix between young and experienced players. I have lived it, I know how important it is to grow alongside Maldini, Cafu, Sheva, Inzaghi, Costacurta, people who did not think about the expiration of their contract but only about the best for the club. Today it's up to Ibra, Kjaer, Giroud: they will show the way, there is no lack of quality in the squad. And then Milan are back with a different hunger. Liverpool have already won and have confirmed themselves at the top for years, but the enthusiasm of those who have dreamed of playing this tournament for a long time can make the difference".
Can Pioli become a top coach: "Yes, he has everything to become a great coach. He's a very good technician and an excellent manager. I like the fact that Milan confirmed him and that they do not ask him for everything immediately. To build it takes time, but Pioli has already marked important steps".
On the tough Champions group: "I don't see a big difference in the group, they can play equaly with everyone and go through. Then we will see, from the second round onwards it is almost impossible to find easy opponents. Surely those who survive this group will have something more than the others".
Milan, same chances as Juve, Inter and Atalanta: "Same chances to pass the grups. Atalanta is now a certainty, Inter have lost important players but have rebuilt, Juve are used to the Cup".
Are these the teams that will fight for the Scudetto ? "I think it could be the right time for Milan. They have continuity, while the others have lost something. Juve no longer have Ronaldo, Inter will have to redistribute resources without Lukaku. Romelu is number one, he reminds me of the best Adriano: physical strength, intelligence, speed. A year ago Milan took the lead after the first leg, then Inter took the lead and won with merit. But Pioli gave up on Ibra for a long time, Conte always had Lukaku at his disposal. Today Ibra is still there and Giroud has joined, I think and I hope that we can get to the end".
Ibra decisive in the Champions League: "On the pitch he weighs, we saw it with Lazio. Easy goal but he was there. He will also weigh at Anfield, for his team-mates and for the Liverpool defenders: with someone like him you can't get distracted, even if your name is Van Dijk".
On Brahim Diaz: "I like him a lot, he has already matured a lot and can still go a long way. I'm curious to see how he will approach Liverpool: goals and assists count, but personality even more".
On Donnarumma's farewell: "He made a personal choice and I won't go into the matter, but I think it's a professional choice. You can't leave Milan just because you'll earn more elsewhere. He is one of the best goalkeepers in the world, he has just won the European Championship and is now aiming for the Champions League with PSG. At Milan, however, there are Calabria and Tonali, in the future they could be what Maldini, Costacurta, Gattuso and the other Italians were for me".
---
READ MORE: AC Milan in contact with Kessie's substitute