Milan-Brescia, Giampaolo explains his strange decision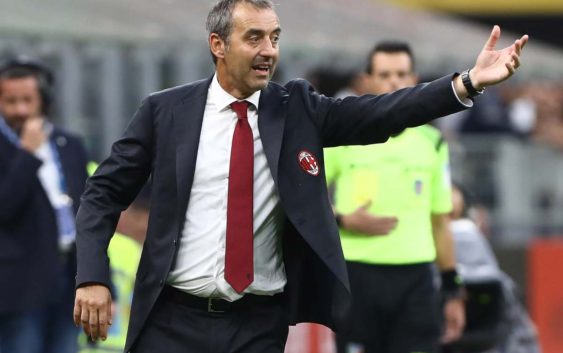 AC Milan coach Marco Giampaolo commented the 1-0 success against Brescia and the individual performances of several players.
MILAN NEWS – AC Milan secure the first win in Serie A. After the embarrassing defeat against Udinese away from home, Marco Giampaolo's side wins 1-0 against Brescia thanks to a single goal from Hakan Calhanoglu in the first half.
The 52-year-old Italian was interviewed by Sky Sport after the match: "There is great will from the players to do things and it is the most important thing. Then we need to improve certain aspects. We need to have time to work together but the team is dedicated and working hard. I'm confident".
Giampaolo also explained the surprising choice of starting Andre Silva instead of Krzysztof Piatek. "For this match I chose the characteristics of Silva, I thought he was more suited to the opponent's way of playing. Piatek is a great player, if he doesn't play it's not the end of the world. He did very well in the second half. Players must think only of giving their best for Milan, then it's my job to choose".
Subsequently the AC Milan coach spoke of the midfield, starting with Hakan Calhanoglu: "Hakan plays better as a midfielder, but last Sunday I had to use him as regista. However, we did well today, as long as we had control of the game. Then we were a bit loose and we played more individually. Paqueta is free to move, he has the license to dribble and advance. He's an extra resource in that role. The playmaker is a fake striker. I like that a footballer with the qualities of the attacker can play there, which is different from the midfielder".
The coach also discussed on Jesus Suso, who played more on the right in attack today and found himself better than when he acted as a pure trequartista: "In reality I only swapped Suso with Castillejo. Jesus had the job of being an attacker. We have not changed the concepts we have worked on".
Giampaolo refused to give concrete answers when asked about the transfer market: "You have to talk to the club about the mercato. I can't say anything. I respect the players I train with, I work with those I have available. The rest is not my job. If I had the club's money, I'd answer… (laughs)".
READ MORE: AC Milan sign German starlet