Boban: "Everything on Rebic, Modric and Angel Correa"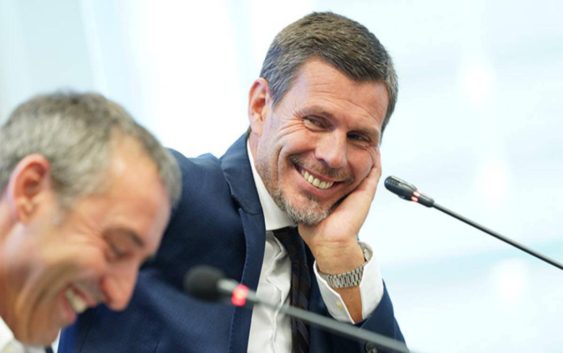 After the closure of the summer transfer window, Zvonimir Boban talks about Rebic, Modric, Correa and so much more.
MILAN NEWS – Interviewed by Sky Sport journalist Peppe Di Stefano, AC Milan chief football officer, Zvonimir Boban, discussed on the summer shopping campaign conducted for the first time by him and Maldini. The Croatian touched on several very important themes on this purchase campaign.
On the length of the summer transfer window: "It was a heavy market, we hope that FIFA will shorten it a bit. For many it is fun but it lasts a lot, the team and the coach are stressed, you are already starting to play and you change, you give in and you buy. There is a bit of a mess".
Boban reveals Rebic: "He's a layer with so much strength, character, can play different roles and at very great levels. I believe he can give a different energy. Rebic can also play as false 9, a striker without references. He can be used in different roles. A very serious and technically mature boy. He has always had strength but he has made so much progress. We are happy that he has arrived".
On the many youngsters in the squad: "The business strategy is that. But then they are young. Young players are good but someone with experience is also needed. We have a mix with so many young players, maybe would have been good to have some older players. But the team will improve and also our game. Milan will grow and return on the top, but this is a process. We cannot accept being still in mid-table, however, we cannot arrive there in one day".
Modric and Correa were two player linked with AC Milan for a long time: "Modric was impossible. He is a big Milan fan, an extraordinary friend and player, there was never a real possibility to acquire him. You can't leave Real Madrid after a bad season. Correa? We failed to agree a deal due to economic requirements. This was the case for so many targets but who knows perhaps it was better this way. We have a good squad, we'll see over time. I understand that fans do not know these players good well we believe that they have special qualities".
Sulla soddisfazione di Elliott Management: "Non ho sentito quelli di Elliott. Eravamo così tanto dentro tanto da non dormire che non ho avuto tempo. Ci sono tanti giocatori nuovi, l'idea era questa, cioè di cambiare e migliorare la struttura. Ma uno non ti cambia la squadra. Meglio averne di più che man mano migliorano".
On Elliott Management: "I didn't hear those from Elliott. We were inside so much we didn't sleep that I didn't have time. There are so many new players, this was the idea, that is, to change and improve the structure of the team. But one player doesn't change your team. Better to have more of them as they improve".
READ MORE: AC Milan make six signings on transfer deadline day