The Odds of AC Milan Landing Noa Lang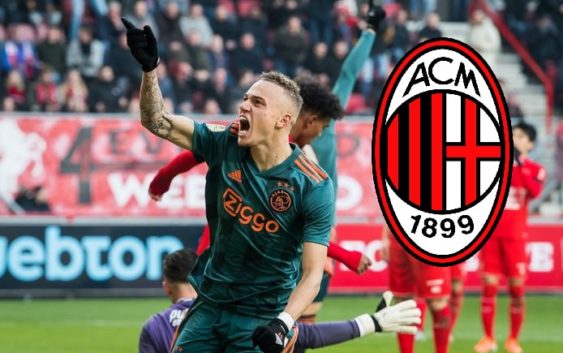 Will Noa Lang join AC Milan?
AC Milan are one of the biggest clubs in European football and recently enjoyed winning Serie A, in a season where they were aiming for a top-four finish. There are many names on their transfer shopping list and one near the top is Noa Lang, but is the youngster destined to join the Italian champions?
Betting on Success
When AC Milan won Serie A last season it was their first domestic title triumph in over a decade, and one that brought huge joy to its fans both in Italy and around the world. Those who had put money on the side had a double reason to celebrate. But when it's the off-season, and as an extra during it, many football fans also enjoy wagering at the best EU online casinos. It's easy to find the finest sites for European players in this link, where established online casinos of proven reliability offer a compelling combination of excellent bonuses to welcome newcomers, a great array of slots, table games, and other distractions, and slick navigation that handles both desktop and mobile gaming seamlessly. And, unlike betting on football, there isn't the emotional baggage that can sometimes make it difficult to place objective bets when your team is involved.
Why AC Milan Want Noa Lang
Not keeping a refreshed squad with new transfers and standing still is a sure-fire way to cruise towards defeat in football. AC Milan's a huge club, so what caught their eye about Noa Lang? The Dutchman started his career with Ajax, and is currently signed up with Brugge. He's a winger with an eye for goal, scoring seven times for the Belgian side in 37 appearances (not counting his loan period with Brugge, which saw 16 goals in 29 appearances). In addition, he's made four appearances for the Netherlands on the international stage.
Although a winger, AC Milan want to improve their attacking edge on both the wings and in the midfield. Lang has caught the attention of the club due to his capacity to not only score goals himself but provide excellent support and assist others to hit the back of the net. Negotiations began with Brugge way back in March of 2022, with the figure of €25m being suggested. But the club won't be the only ones trying to get their hands on the Dutchman.
Other Potential Transfers
Getting transfers right can make all the difference between silverware and a season of failure. Having waited so long to reclaim the Serie A crown (AC Milan's most recent previous title was 2010-11) the club will be very keen to usher in a reign of years rather than have their victory prove a temporary break in Juventus' dominance. From 2011-12 to 2019-20, Juventus owned Serie A, but last season they could only finish in fourth place, 16 points behind AC Milan.
Instead, the club's biggest competition came from arch-rivals Internazionale, who finished just two points behind. Napoli were also contenders, finishing seven points behind the champions.
Lang isn't the only name on the list for AC Milan when it comes to strengthening their midfield talent. The Serie A champions are also believed to be taking a serious look at Chelsea midfielder Christian Pulisic (with Juventus also reportedly keen to bring the American international to Italy and Liverpool touted as an alternative EPL home). Pulisic may be open to such a move given difficulty finding a regular starting slot at Chelsea.
In addition, AC Milan are believed to be a potential destination for Roma's Nicolo Zaniolo, with his club willing to sell and the player happy to remain in Serie A. There's quite a gulf in the price point, though, with the champions wanting to spend €40m and Roma preferring the sound of €65m. Attacking midfielder Mario Götze, currently with PSV Eindhoven, is another potential transfer target for AC Milan, but it seems highly unlikely.
Lang Transfer is All But Confirmed
At the time of writing, the signing of Noa Lang is all but confirmed. While AC Milan are retaining attacking midfielder Brahim Diaz they will bolster their offensive potential with the addition of Lang. According to Gazzetta dello Sport, an agreement in principle with Brugge has been agreed, although any transfer remains subject to receiving the green light from incoming new owners RedBird Capital Partners.
Although details have yet to be revealed it's believed the total value of any sale will be close to €30m, with a €22m fee and extra cash as an add-on. Such a transfer would be far from a surprise given just how long the Rossoneri scouts have had their beady eyes on the talented Dutchman (it is worth mentioning that Lang's teammate Charles De Ketelaere is also on the shopping list for AC Milan).
It's not yet completed absolutely, but it does seem to be a racing certainty that Noa Lang is on his way to AC Milan.