VIDEO shows Atl Madrid player handball first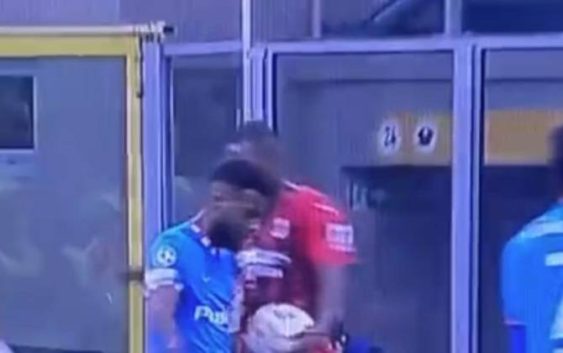 Video shows that it is Atletico Madrid winger Lemar to touch the ball first with his hand and not AC Milan defender Pierre Kalulu.
A mockery is being considered what happened at San Siro yesterday evening. The Champions League home return of AC Milan resulted in a fiasco with referee Cüneyt Çakır clearly influencing the outcome of the match against Atletico Madrid.
The Turkish referee controversially sent off Franck Kessie in the first half after a foul on Marcos Llorente. However, the penalty given in Atletico Madrid's favor is even more infuriating. Çakır signals a handball from Pierre Kalulu when in fact it was Lemar to touch the ball first with his hand.

Numerous replays confirm that the first touch was from Colchoneros winger Lemar. It is Lemar who moves the ball with his hand and diverts it on Kalulu's arm. Stunningly VAR did not intervene to clarify the situation and cancel the inexistent penalty given by Çakır.

In the second half, Rodrigo De Paul makes a similar foul on Sandro Tonali but not only did the referee not give a yellow card but he didn't even award a foul for the Rossoneri. Three key decisions in Atletico Madrid's favor that decided the fate of the match. At the end of the game Rossoneri coach Stefano Pioli would declare: "Let's say that tonight the referee was not the best on the pitch".
I turchi e il Milan credo non si debbano più incontrare…arbitraggio fuori da ogni regola arbitrale. pic.twitter.com/itRuAf5aw9

— Gianluigi Torre (@TorreGigi) September 28, 2021
Now AC Milan find themselves at the bottom of Group B with zero points after the first two rounds. The next two Champions League games of the Rossoneri will be against Porto.
---
READ MORE: Capello blasts Çakır mistakes in Milan-Atletico