30 Years of goals: Shevchenko and Van Basten stand out, Kalinic the worst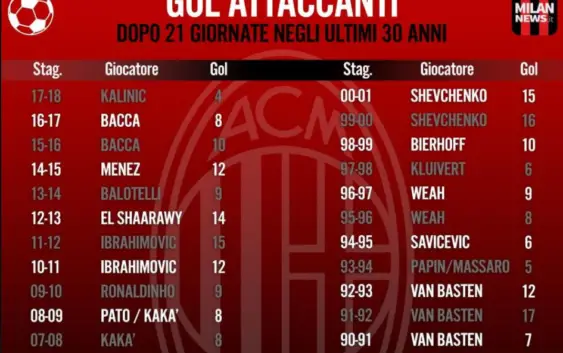 The special classification of AC Milan's best goal scoring strikers until the 21 round of Serie A in the last 30 years. Shevchenko and Van Basten stand out, Kalinic the worst.
Obvious and unresolved offensive famine. The continuous goal drought seems destined to remain, at least for now, on the negative side in the history of AC Milan strikers of the last 30 years of Serie A. Never as in the current season, the tag "centre forward" of Milan has struggled so much to find the back of the net in the league, like Nikola Kalinic this season with only 4 goals so far. A new negative record that must lead to an inevitable reflection on the transfer market regarding the attack. Modifications are needed urgently to improve for the upcoming 2018/19 season.
Before the four goals scored by Kalinic, it was the Papin-Massaro duo, which till the 21st round in the 93 -94 season, recorded the worst goal scoring result among the Rossoneri strikers in the last thirty years. Numbers that in that occasion, however, turned out to be a pure false alarm, as AC Milan won the double (Scudetto-Champions League) and the two reached double digits at the end of the season and proved to be quite lethal in Europe too.
On the bright side, Andriy Shevchenko and Marco Van Basten stand out as true goal scoring machines every season. The two lead this special chart with 17 goals each but the Dutch striker closed the season better with 25 goals in 1991/92, one goal above the Ukrainian in 2003/04 (24 goals).
---
---