5 Things we learned after Spal vs Milan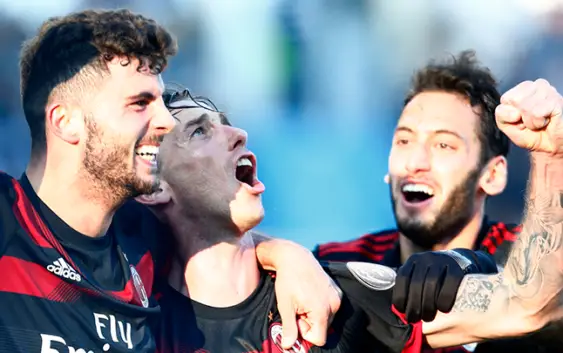 A 0-4 away win we were expecting for almost five years. The Rossoneri win and secure the forth victory in the last five Serie A games.
THE STATS ARE BACK TO POSITIVE
The stats produced by the match against SPAL are quite generous. In the last 6 league games, AC Milan have won 14 points and have conceded 3 goals, one of which an own goal. Regarding Cutrone, the young striker reached a double-digit record of goals, 12 in all competitions: 5 in Serie A, 2 in Coppa Italia and 5 in Europa League. The Red and Blacks last won an away match 4-0 in May 2013 against Pescara.
FEET ON THE GROUND
The team is responding, is improving, but let's not get ahead of ourselves. As coach Gattuso says, there is still so much to work on, and there is nothing yet achieved in terms of results as the players continue to repeat. The fans appreciate the hard work and the positivity around the team. However, the toughest part is yet to come as a very busy schedule begins starting with the match in Bulgaria.
3 GOALS CONCEDED IN 8 MATCHES
Besides the 6 games in Serie A, we could include the 2 matches in Coppa Italia after the Milan derby on 27th December. However, these are not just stats. There is also quality. The team has changed the way it holds its opponents. Besides, the boys run more and attack more. On the individuals, we could highlight Donnarumma's fantastic saves, the solidity shown by the defensive couple Bonucci-Romagnoli and the great number of balls recovered and distributed by Biglia in the defensive phase.
CUTRONE'S GOAL
Patrick left his mark in two of the most important games of the season: against Inter and SS Lazio (putting aside his involuntary deflection with the arm of which so much has been discussed). Now he scores a brace in a 4-0 win we were expecting for years. Yet, Cutrone gives the impression that he is not only having a good few months. Not just because he has scored during different stages of this season, rather because the young man from Como seems like a true natural striker with a brighter future to come.
FUTURE PERSPECTIVES
Andrea Conti's inclusion in the trip to Ferrara reminds us how tough will be not to be in the World Cup and how important will be the strategic renovation of the Italian National Team. Donnarumma in goal, with Conti, Calabria, Bonucci and Romagnoli in defence, and Bonaventura and Cutrone. AC Milan are ready to be an important part of it. There is plenty of potentials.
---
---