AC Milan 3-0 Verona, player ratings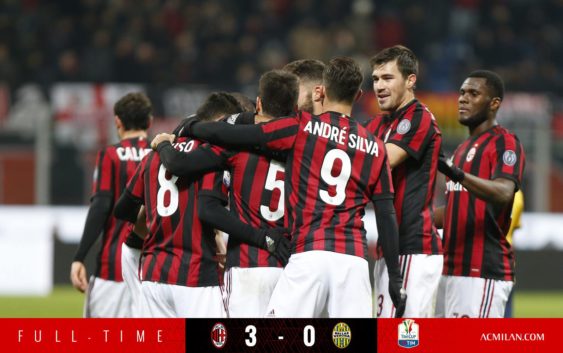 AC Milan win and qualify for the next round where the rossoneri will face city rivals of Inter. A good performance from Milan and a second consecutive victory for Gattuso at San Siro.
Donnarumma 6: Curva Suda whistles him for the entire first halt and he leaves the pitch with his head down. Rumors suggest Gigio was seen crying in the locker room. Regarding his performance on the pitch it was a quiet game and he was ready whenever he was called in action.
Calabria 6: He could and should do better in with crosses. However the young right back links well Suso and Kessie.
Bonucci 6.5: Rock-solid in defense and very good with the ball on his feet. Rarely have we seen a Bonucci so much involved in the rossoneri play always ready to pass and find a teammate. In half time break he gives Gigio an encouraging speech. We need to see more Bonucci in this form, on and off the pitch.
Romagnoli 7: He scored his third seasonal goal tonight against Verona. After the absence in Bologna due to a red card, Romagnoli will again be available for the next Serie A match again against Verona. 
Rodriguez 6: Pushed by Gattuso on the sideline in the first half, the Swiss left back in recent weeks appeared not physically at the top. In more important and insidious games than today, something more is need from him but he is starting to help even more in attack.
Kessie 6: Never in the game for the entire 90 minutes but today against Verona his performance is enough. The important thing for him is to know how to increase the rhythms when it is needed, probably starting already next Sunday against the same opponent.
Montolivo 7+: One of the best on the field. He plays well as playmaker, always accurate and impeccable in his timing. Applause from San Siro, generous in his regard given the excellent performance. Apparently delivering the captain armband to Boncci has had a positive impact on him. Milan deeply needs such a playmaker.
Bonaventura 7: In the middle of the field his movements without ball make the difference. Great at serving a precise cross from which the second goal of Romagnoli is born. A reborn Jack.
Suso 7,5: Impossible to stop by any opponent. A goal and an assist for the flamboyant Spaniard, who appeared just magical. Worth noting his unusual and surprising contribution in defense.
Cutrone 7: Grit and heart, as a striker and as left winger. Coach Gattuso is trying to reinvent him in that role, even if technically he has serious shortcomings. Scored a great net with a header with his back on the goal on a cross from Suso.
Andre Silva 6: Makes some nice movements, but never gives the impression of being dangerous for the opponent. Often he wastes time trying to push forward and falls asleep too often with the ball between his feet. He is to be credited for a nice assist to Romagnoli for the momentary 2-0. It's clear that Silva is technically highly gifted but he makes many errors.
---
---