Fans reduce to tears Donnarumma and Mirabelli attacks Raiola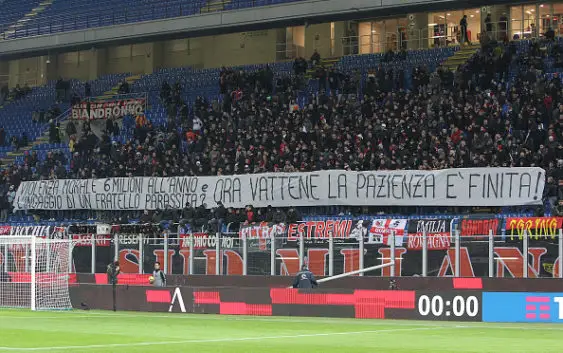 After Donnarumma and Raiola required the cancellation of the contract signed last summer, a heavy reaction was expected from the fans who are not forgiving the young goalkeeper for his latest deed.
Yesterday's Coppa Italia match, AC Milan vs Hellas Verona at San Siro was not a good night for young goalkeeper Gianluigi Donnarumma, heavily contested by the rossoneri ultras group Curva Sud.
As La Gazzetta dello Sport recalls today, in the pre-game warm up there were clear chants against him with heavy words: "Donnarumma piece of sh…". An eloquent banner was also exhibited inviting Gigio to leave the rossoneri: "Moral violence, 6 millions a year and the signing of a parasite brother? Now leave, our patience is over". And there was no lack of whistles both before and during the match. A really negative climate for the boy, who also shed tears in the locker room for what happened.
Donnarumma & Bonucci in the locker room
After the match, AC Milan's sports director gave his thoughts on the matter: "I have no meetings scheduled with Raiola, I have nothing to say to him: Donnarumma has already renewed and is under contract until 2021. One person is damaging our image but is becoming more a showman than anything else and we'll not let him get away with it. At first I was laughing, but if it gets serious I say we have no intention of selling Gigio. Only if he will ask us pleading we will change our minds but so far has never done such a thing, I spoke to him a minute ago. We will protect Milan, otherwise it will be us who should leave. Eventually the conditions for selling Donnarumma will be dictated by the club, and they will not be easy".
---
---