Report: From heaven to hell in four minutes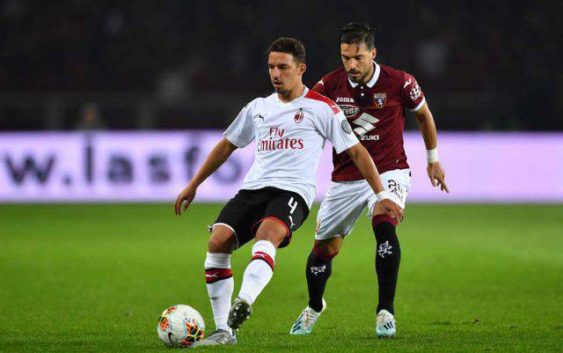 It was AC Milan's performance so far but even that wasn't enough to avoid defeat against Torino. The situation of coach Giampaolo worsens.
AC Milan went from heaven to hell in four minutes. Last night against Torino, the Rossoneri played a good first-half, showing their best performance in these first rounds of Serie A, but then at some point in the second-half, between 72′ and 76′, there was an unexpected blackout in which Milan conceded two goals from Belotti.
It seemed like a match already won as the Rossoneri were ahead by one goal and had also created several chances to double the lead, instead, the second defeat in a row happened after that in the derby against Inter. An urgent reaction is needed to turn the page.

SPACE FOR NEW SIGNINGS
According to Corriere della Sera, coach Marco Giampaolo is not at risk of losing his job for now but he is weaker and the match on Sunday night at San Siro against Fiorentina will say a lot. Against Torino, the Rossoneri coach pleased those who were pressing to see some new signings on the pitch.
This time, in the starting line-up, Theo Hernandez replaced Ricardo Rodriguez in defence, with Bennacer in midfield and Leao in attack. The formation too was not 4-3-1-2 but rather 4-3-3 with Suso from the first minute in his preferred position wide to the right.
AC MILAN PLAY ONLY IN FIRST-HALF
After the disappointing performances in the first four rounds of the Serie A, last night Milan finally showed something interesting and in the first-half offered a pleasant game, as well as creating many scoring opportunities.
There was only one flaw in yesterday's performance according to Giampaolo: "The defeat is undeserved, we did not have the cynicism to close it the match earlier. I just hope it doesn't affect the self-esteem of my players. Piatek had his chances to score, more than on previous games".
The sudden blackout, however, ruined everything in the second-half and, although the Rossoneri also came close to scoring in the final moments of the match with Franck Kessie and Piatek, they returned home from Turin with zero points in their pockets.
READ MORE: AC Milan coach: Two names that could succeed Giampaolo