AC Milan receive official offer for Calhanoglu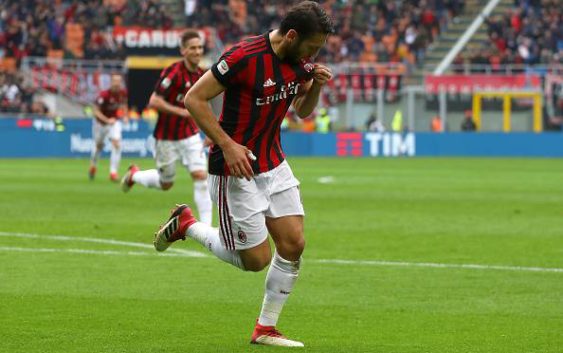 AC Milan will likely sell Hakan Calhanoglu in January with Galatasaray the first club to express concrete interest in his services.
MILAN TRANSFER NEWS – The start to the season by Hakan Calhanoglu was certainly not the best. The burden of the number 10 has been a lot for the Turkey international who risks losing his starting spot under new coach Stefano Pioli.
AC Milan has given Hakan several chances to prove his talent, even under the guidance of Marco Giampaolo. It is no coincidence that Calhanoglu has played always in all the official game this season from the beginning. Nevertheless, the Rossoneri are loosing patience with the 25-year-old central midfielder and are seriously considering his sale in January.
During the summer transfer window, several German clubs inquired about Hakan Calhanoglu and if the right offer arrives in January AC Milan are ready to part ways. According to reports by Turkish portal Fanatik.com, later confirmed by Italian sources, AC Milan have received the first official offer for their number 10. Galatasaray, one of the most famous and historic clubs in Turkey, have bid €6 million for Hakan Calhanoglu.
However, Paolo Maldini and Zvonimir Boban have rejected Galatasaray's offer. The proposal of the Turkish club was deemed too low. The Rossoneri in 2017 spent around 22 million euros to sign Calhanoglu from Bayer Leverkusen. Selling him in January for only 6 million would be a lethal loss. Certainly the performances of Hakan could be better but the market value remains higher.
If Galatasaray are serious about signing Hakan Calhanoglu they will have to triple their bid. The upcoming three months could be the last chance of the Turkish midfielder to save his AC Milan career. The former Bayer Leverkusen star has made 98 appearances with the Rossoneri scoring 13 goals and providing 24 assists.
5 AC Milan players Pioli should avoid if he doesn't want to end up like Giampaolo
https://www.youtube.com/watch?v=YyJ7T7q4BB8
READ MORE: AC Milan name Rafael Leao price tag