Giampaolo talks possible sacking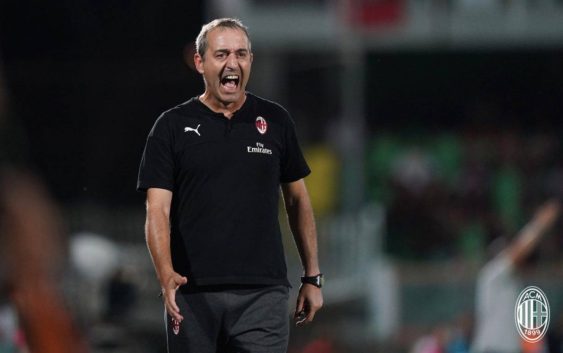 AC Milan coach Marco Giampaolo risks losing his job if the Rossoneri fail to perform in the upcoming league games against Torino and Fiorentina.
The Rossoneri have started the new season of Serie A on the wrong foot. With two victories and as much defeats in the first four games in the league AC Milan are far from the goal of qualifying to Champions League.
The performance in the derby was obviously disappointing but even against Verona and Brescia, two games that AC Milan won, the display of the squad was equally underwhelming. That's why the management and the fans are not pleased with the work of Marco Giampaolo.
AC Milan chief football officer Zvonimir Boban acknowledged that the squad is far behind the initial plan. The former midfielder also admitted that this young team lacked experienced players with personality. According to reports in Italy, the upcoming two games against Torino and Fiorentina could be decisive for the future of Giampaolo.
There is a real risk, write the Italian newspaper, that the adventure of Giampaolo at San Siro could be cut short. When asked about the matter, in today's pres conference, the former Sampdoria replied: "I never think about these things, I just think about working and doing my job well" .
The coach also admitted that taking charge of Milan is a job of another dimension compared to his previous experiences. "AC Milan is another thing compared to Sampdoria. This Milan has other features, you have to work to make the players perform better. There is no Piatek problem and no issue on the deployment of the attack. My work must help offensive players to do their best".
READ MORE: Torino vs AC Milan, probable lineups