AC Milan-Juventus: 4 Flops and 1 Top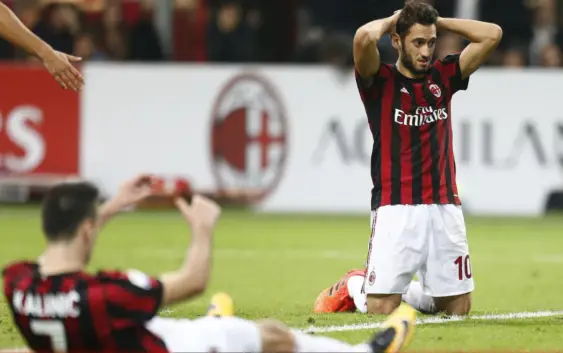 The so much awaited spark unfortunately came from Higuain and now in Casa Milan things look more depressing than ever.
The Argentine midfielder is the worst on the pitch, the Spaniard is not decisive just as Calhanoglu and Nikola Kalinic, only the former Liverpool tries till the end. Reaction is quickly needed otherwise the season will collapse soon.
FLOP: BIGLIA — The Argentine has played his worst game since he joined the rossoneri. Not that he has excelled before, but against the bianconeri is an unprecedented disaster. He melts in a challenge against a big team like Juventus and is not the first time. He loses 8 balls and fails 3 times in dribbling, but most of all he lacks in the construction phase: zero ideas from his sides. Montella is right to substitute him.
FLOP: KALINIC — Immobile, Dzeko, Icardi and Higuain: The big bombers, able to score hat tricks, braces and decisive goals, slam in the face of Milan's leaders that in order to make the difference and become a top team you need goals from top players. Milan, there up front, do not have one and Kalinic's black day is the ruthless confirmation.
FLOP: SUSO — He tried, but the Asamoah-Mandzukic duo and Chiellini behind them, did not let him catch a breathe. And so Suso nad his genius were neutralized, playing an impalpable match in a parallel dimension, while at San Siro field the Ghanaian midfielder galloped towards El Pipita assisting him for the second goal.
FLOP: CALHANOGLU — Starts as left midfielder but tends to centralize: often tries to approach Kalinic for the last pass and is one of the few to follow the action when Milan moves in Buffon's sides, even because he presses a lot and tries to annoy the start of the bianconeri maneuver. Suddenly, however, he turns off and goes back to being the number 10 who does not do things of number 10, just like in previous games.
TOP: BORINI — Montella places him on the left, then moves him to the right: he performs everywhere facing fearlessly Cuadrado, Mandzukic, Asamoah and if he could, all the eleven players of Juve one on one. With Suso deactivated and Rodriguez too far, he is the only one looking for Kalinic with crosses from the flank. Everyone doubted his signing but Borini is proving to be an example of humility and hard work. The rest should learn something from him.
---
---