Pioli and Tonali blast referee Daniel Siebert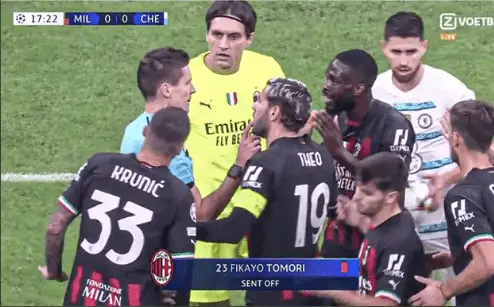 Coach Stefano Pioli and Sandro Tonali blame Daniel Siebert and his refereeing for AC Milan's defeat against Chelsea. 
AC Milan lose 2-0 against Chelsea a match that was marked by a dubious penalty given in favor of the Blues and a red card for Fikayo Tomori. The intervention could hardly be considered a penalty while the red card was a total exaggeration for the English defender. Coach Stefano Pioli was understandably furious with referee Daniel Siebert.
On the referee and Tomori's red card: "I had the feeling that we could play a good match, but the penalty and the red card made it difficult against an opponent who was already very strong and did not need numerical superiority. The episode is too obvious and easy to judge. I told the referee what I thought, I won't tell you what, but I think he understood despite my not very fluent English. "
"Unfortunately that episode put us in difficulty. We could get back into the game with some chances we had, but it was difficult. Of course, anger and regrets remain. We wanted to restart with a positive result, a shame to play 80 minutes outnumbered. We committed a naivety but let's forget it".
The coach remains confident about progress to the next stage: "The result is negative, but the development of the group does not change. We have to win the last two games and we have the qualities to do it. Now let's think back about the league, let's try to recover our energies because today was more tiring than expected. We have to believe in qualifying for the round of 16, we can manage to win the next matches".
Sandro Tonali was equally not impressed with the refereeing of Daniel Siebert: "I think we got off to a very good start, with the help of the supporters. Then we had that problem that the referee created for us. A penalty like that, in the 20th minute, plus with a red card, seems exaggerated in the Champions League.
I would never have given it in a competition like this. Refereeing the first half with 7 fouls and 4 cards is exaggerated. We can't choose the referees, he had a bad match. We tried for 70 minutes, with heart. Chelsea are very strong and have been tough, even with the push from our fans".
---
READ MORE: AC Milan's worst signings EVER