AC Milan's seventh Supercoppa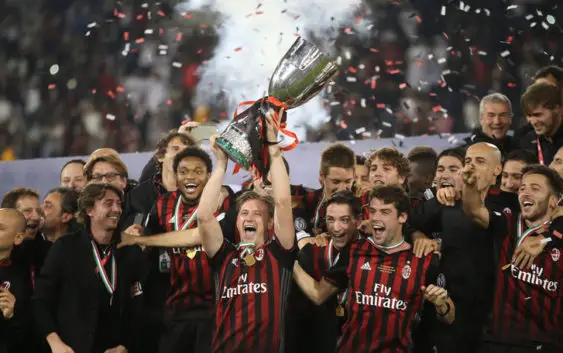 One year ago, on 23 December 2016, Doha: and in the end, it was AC Milan. Let's relive those days, starting from the late departure.
24 HOURS LATE
The Red and Blacks' journey to Doha didn't start off on the right foot. On the afternoon of 20th December, the Rossoneri's Titan Airlines flight was scheduled to take off for Doha (Qatar) but was delayed due to technical issues to the plane, with Juve who made in Doha 24 hours before. AC Milan also thought not to leave for Doha at all, should have the issues persisted also the following day, on the 21st. The whole story received a high level of media attention and it looked like Juventus were the ones who were going to benefit from it all…
THE FIRST WIN AGAINST A FORMER RED AND BLACK
All is well that ends well: not only AC Milan leave for Doha, but come back from one goal down and equalise through Bonaventura to equalise Chiellini's goal, play a great final and go on to win on penalties. On Juventus's manager's seat was an embittered Massimiliano Allegri, former Red and Blacks' coach. The trophy won in Doha, the seventh Italian Super Cup hoisted by AC Milan in the space between 1989 and 2016, is the third domestic title won against a former Rossonero. The first was Nevio Scala in the Super Cup played in 1992 (AC Milan 2-1 Parma), the second Fabio Capello in the Coppa Italia two-leg final in 2003: Roma 1-4 AC Milan and AC 2-2 Milan-Roma.
DONNARUMMA LIKE DIDA
Gigio was decisive saving Paulo Dybala's penalty giving AC Milan the trophy and winning the challenge with Gianluigi Buffon from the spot. After the match, he was really over the moon: "It's something indescribable. It's really one of those emotions you can't describe". The one saved against Dybala was the fifth penalty blocked by Donnarumma in his young career in the Red and Black. After the summer of 2015, with Toni Kroos's penalty saved, against Real Madrid in the International Champions Cup and the ones against Acerbi and Berardi which gave AC Milan the win in the Trofeo TIM and the two stunning saves to deny Belotti and Dybala.
JUVENTUS 1-1 AC MILAN (4-5 PK)
JUVENTUS: Buffon, Lichtsteiner, Rugani, Chiellini, Alex Sandro (33′ Evra), Khedira, Marchisio, Sturaro (79′ Lemina), Pjanic (67′ Dybala), Higuain, Mandzukic. Coach: Allegri.
AC MILAN: Donnarumma, Abate (102′ Antonelli), Paletta, Romagnoli, De Sciglio, Kucka, Locatelli (29'st Pasalic), Bertolacci, Suso, Bacca (102′ Lapadula), Bonaventura. Coach: Montella.
Referee: Damato. 
Goals: 18′ Chiellini (J), 38′ Bonaventura (M).
Penalties sequence: Marchisio, goal; Lapadula, saved; Mandzukic, crossbar; Bonaventura, goal; Higuain, goal; Kucka, goal; Khedira, goal; Suso ,goal; Dybala, saved; Pasalic, goal.
---
---