AC Milan to invest €80 million for Hernandez, Bennacer and Leao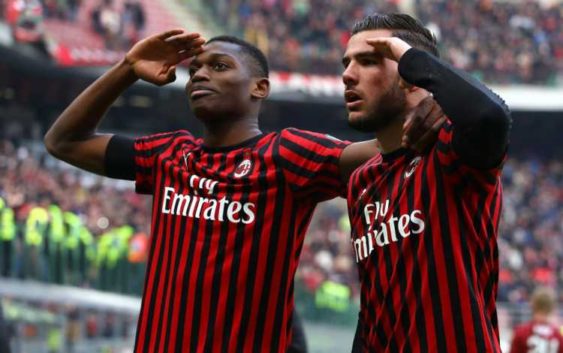 A new set of contract renewals will be closed soon with 
AC Milan to invest 80 million euros for Hernandez, Bennacer and Leao.
Last summer, the Rossoneri invested a lot to improve their squad but that wasn't without it's cost. AC Milan lost Gianluigi Donnarumma and Hakan Calhanoglu as free agents. Their absence hasn't been felt a bit on the pitch but it surely caused a big economic damage to the club.
Apparently, the management has learned it's lesson. That's why Paolo Maldini and Frederic Massara have opened renewal talks with a trio of important players. Theo Hernandez, Ismael Bennacer and Rafael Leao are in advanced negotiations to extend their contracts until 2026.
The three players want to continue their careers at San Siro. They all have refused to talk to other clubs prioritizing the permanence at AC Milan. All are currently earning around 1.5 million per season but they will be rewarded significantly for their important contribution so far. La Gazzetta dello Sport reports that AC Milan will invest 80 million euros for Hernandez, Bennacer and Leao.
In the summer of 2019, AC Milan spent nearly 22 million euros to purchase Theo Hernandez from Real Madrid. The transfer fee was considered excessive by many because Theo was branded a "bad boy" in Spain. Nevertheless, the French star immediately became a fundamental player for Stefano Pioli and slowly established himself as one of the best full-backs in the world. Hernandez is set to earn around 5 million euros (bonuses included) from the new contract.
Rafael Leao was the Rossoneri's most expensive signing in 2019 costing nearly 30 million euros. The Portuguese striker is finally beginning to showcase his true talent. The 22-year-old has already scored 5 goals while his best seasonal tally so far was 7. Leao is expected to earn around 3 million from his contract.
Similar skepticism surround the arrival of  Ismael Bennacer. The former Arsenal talent was considered too unripe to lead the midfield of a big club but time has proved his doubters wrong. Bennacer is set to earn similar figures to Theo. In addition, AC Milan will eliminate his 50 million release clause from the new contract. The total payment package is set to cost AC Milan 80 million euros for the next 5 years.
---
READ MORE: AC Milan have the new De Rossi