All reactions after Milan 1-0 Inter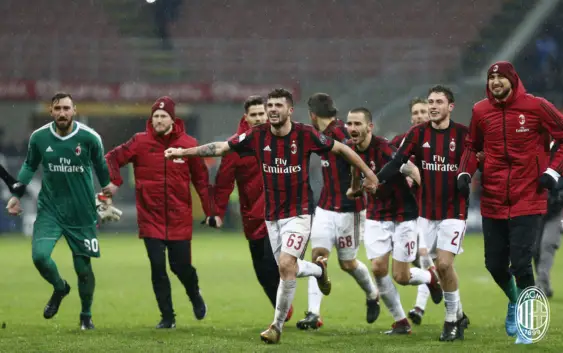 The reaction of the Rossoneri environment after the Coppa Italia 1-0 derby win against Inter. A match deiced in extra time by Patrick Cutrone.
Antonio Donnarumma: Only I and Gigio know how much we have suffered
"I have always trained well, in silence and work pays off. A better debut could not have happened to me. I was upset when they called me parasite. Only Gigio and I know how much we have suffered": these were the words pronounced yesterday after the victory against Inter and reported this morning by Il Corriere della Sera, Antonio Donnarumma commented on his performance in the derby. AC Milan's goalkeeper has taken a good revenge after all the criticisms that he suffered in recent months.
Antonio Donnarumma's girlfriend hits out at Milan fans
Antonio Donnarumma's girlfriend, intervened on Instagram, in a long rant after the debut of the 27 year old goalkeeper yesterday: "And finally you made them shut up. You do not know how much I was waiting for this moment. They named you everything without knowing your qualities on the field. Those who should have supported you and instead accused you as the recommended brother… as money eater, as parasite brother and you always humbly sent everything down and instead it was me to get angry. And you kept telling me not to worry, that you were only interested in the words of those who are really close to you like me. You knew how to play a very important game (a derby and semi-final qualification in the Italian Cup) and is not a small thing. This is why you have shown how much you are worth. Thank you for the emotions you gave me even if the ninth month of pregnancy is not the best moment"
Yonghong Li's reaction after the derby
The presence of president Yonghong Li at San Siro, 120 days after his last visit, resulted to be a good omen. After many disappointments throughout the season the Rossoneri close 2017 on a high note winning the Coppa Italia derby against Inter with a single goal from Patrick Cutrone. The President declared after the derby: "We win as a team, we lose as a team. Only through teamwork we can achieve great results like we did today".
Our President after the #DerbyMilano: "We win as a team, we lose as a team. Only through teamwork we can achieve great results like we did today"
Li Yonghong: "Uniti nelle vittorie e nelle sconfitte. Solo lavorando tutti insieme riusciremo a ottenere grandi risultati come oggi" pic.twitter.com/NGm85ixJrf

— AC Milan (@acmilan) December 27, 2017
President Yonghong Li in meeting with Gigio Donnarumma
During his visit yesterday to Milanello, president Yonghong Li also met with young goalkeeper Gigio Donnarumma. As reported by Tuttosport on newsstands this morning, AC Milan's number one has asked the young Rossoneri's goalkeeper about his physical condition and about his injury that forced him to observe the match from the bench. Fortunately his brother Antonio was a worthy replacement and the Rossoneri won the Coppa Italia derby.
Coach Gennaro Gattuso's first words after the derby win and how it affects the team
On the match: "We came from a negative period, for us it was a fundamental game, I have to thank the boys, the compliments go to them".
On the difficulties: "I knew from the very first day what in what I was getting myself into, accepting the Milan bench, a great club that has won for so many years and changed so many players. We are struggling, but we have a sense of belonging and desire, this is what these boys give me. I don't hold back, if I have to slaughter someone I do it. The team has quality, but often lacked grit and desire. Today we held well on the pitch, we knew how to fight, then the quality came out" .
On the weight of this derby: "If we think we have solved all our problems with this victory, we are hypocrites. It's a success that gives us confidence and makes us work with more tranquility. I am perhaps the most scarce coach of Serie A but even when I play with my children I want to win, it's part of my character. I just hope these guys will keep showing me what they have showed me this week. We will play it match after match".

If it can be the turning point: "I would like to say yes, but I've seen a lot of matches. It's a fundamental game, but now we have to look ahead, we hope to gain more points in the league. The club is honoring their commitments, nothing is missing at Milanello, it's up to me to get the most out of these players. I do not see much differences between today's match and the one with Atalanta. We did a little bit more, but the performance with Atalanta was not disappointing either. "
Antonio Donnarumma in tears after the derby
He could not have imagined a better debut with Milan, Antonio Donnarumma one of the protagonists of the Italian cup derby won by the Rossoneri reaching qualification for the semi-finals of the tournament. The goalkeeper, promoted to a first minute start after the injuries of his brother Gianluigi and the second keeper Marco Storari, ended the game against Inter in tears of joy, after holding a clean sheet and saved Milan on at least two occasions. Immediately after the finale whistle he was surrounded by his teammates and then embraced his younger brother, still limping after the groin injury.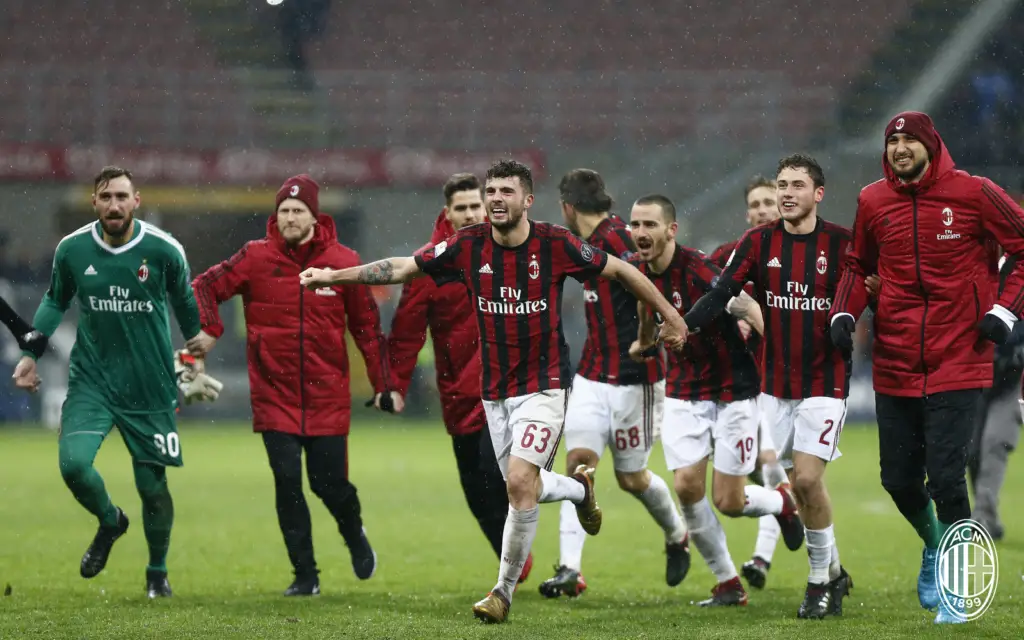 Patrick Cutrone was the match-winner of the AC Milan vs Inter Cup derby at San Siro. His goal in the 104th minute of extra time on Suso's assist decided the final result.
These are the words of the young rossonero bomber for Rai Sport microphones: "To think that yesterday I was playing the derby with the Primavera and now I'm at San Siro is something incredible. This victory was necessary for our morale. The derby is not a normal game. We enjoy this victory, but from tomorrow we'll start thinking of Fiorentina ".
Cutrone explains his dream for the future: "My dream is to stay in this team, I love Milan and I want to stay. Certain movements depend on grit and hunger for goals. I entered the match to win. I dedicate the goal to my family, who have always supported me. It's the most beautiful goal of my life, I can't even describe it".