Ancelotti: "Gattuso the soul of Milan, I see the concepts of my old team. Champions possible only if…"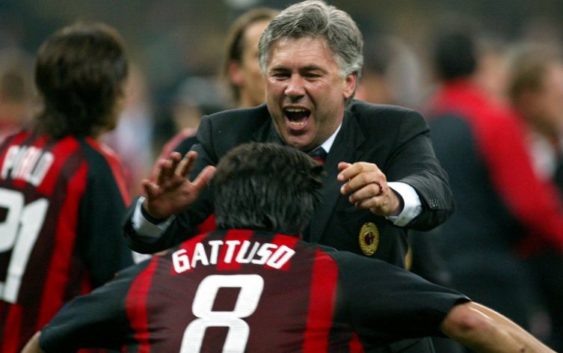 There can not be a better person than Carlo Ancelotti to analyze the new AC Milan of coach Gennaro Gattuso, his loyal friend and former player.
Carlo Ancelotti, who is one of the models inspiring Rino Gattuso, was interviewed by La Gazzetta dello Sport. The former AC Milan coach declared: "Did I expected that Gattuso would be able to lift up Milan in such a short time? Honestly, I was hoping for it, but I was not sure. When you take over the bench there are always many unknowns, many doubts, many obstacles to overcome.
Rino was good at dribbling difficulties and being followed by the players. If you can be credible in their eyes, then you can get any results. I see Rino as an authentic leader. He has the group in his hands, the boys would go into the fire for him, and this aspect is crucial in football and, in general, in life. Gattuso is the soul of Milan and the players provide their knowledge and their energy to achieve success: it is the right path ".
The former coach of Milan, PSG, Chelsea, Real Madrid and Bayern Munich then went on: "I follow all the matches of AC Milan. I am a romantic old man, and when they win I too rejoice as I once did. Gattuso took little time to create the right alchemy. Sometimes it takes months, even years. Rino, on the other hand, spent a month or so, but he benefited from being part of Milan for many years, knowing the history of this club. There is no corner of Milanello that he doesn't know. Rino was a pillar of my Milan, which was based on a precise philosophy of play and management. Now, very wisely, he is trying to bring those values back to the center of the project. You can go far only if the club, the team and the public, are a single block and they walk in the same direction.
When frictions exist, positive results fail to come. This Milan like my Milan? Better not exaggerate, the technical values are different. But the road is the same. Building a gameplay based on the technical qualities of the individuals. In Rino's Milan, I admit, I see the concepts of my Milan. Then, all right, the performers are not the same, but you can not have everything from life…".
Regarding Gattuso's AC Milan goals, Ancelotti is convinced that they can fight for fourth place: "Can this Milan secure a Champions League spot? If they continue on these rhythms, yes. But we should not put too much pressure, we must reason match after match. To conquer the Champions, the players up front must never stop. The Rossoneri have a duty to be ready in the event that Roma, Lazio and Inter have some difficulties.
Considering where he started, however, it is already a great result to be here talking about the Champions. Do you remember the depression of some time ago? For Milan to get ahead of Inter would be a great achievement. But at this moment I see the Nerazzurri in big difficulties and, if you want to reach the Champions League, you probably have to plan the chase on Roma and Lazio too".
---
---