Austria Wien 1-5 Milan, post-game reactions. Montella and the players comment the victory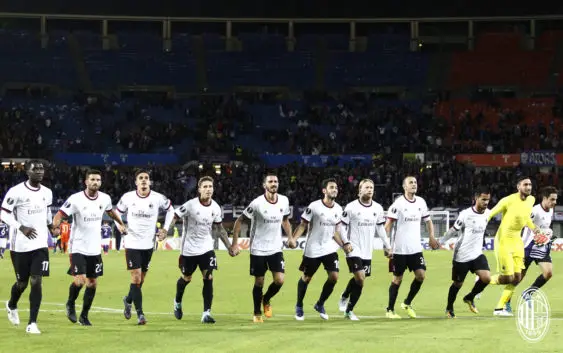 AC Milan thrash Austria Wien 1-5 winning the opening round of Europa League group stage. Below you can find Montella's and the player's reactions after the game.
Calhanoglu's reaction
A superb test with a goal and two assists. Hakan Calhanoglu was one of the two main players in AC Milan's 5-1 win over Austria Wien in his Europa League debut. Here is his post on Instagram:
Donnarumma's reaction
Even Gigio Donnarumma wanted to express all his happiness on Instagram after AC Milan's victory over Austria Wien: "Great reaction and fantastic team victory".
Suso's reaction
This is Suso's post on his social media after AC Milan's 5-1 win against Austria Wien at Ernst Happle Stadium and where he entered the game on second half and scored and absolute screamer from long distance.
Franck Kessie's reaction
Via Instagram, Franck Kessie celebrated after winning 5-1 the first round of Europa League in Austria against Austria Wien: "First win in Europa League! Great!".
Vincenzo Montella was interviewed by Sky Sport and later gave the usual press conference after tonight's great success of AC Milan against Austria Wien.
On the victory: "The defeat with Lazio weighted on us, today i liked the team's spirit, the interpretation. The team played with speed, closing the match right away, then we saw the will to suffer, to be compact. There was a small drop in tension and we have to work, but we are happy about this victory that should be set aside immediately because we have to work hard to face Udinese."
On the formation: "We built the team thinking about the defense of three, but Romagnoli is back only now so we waited."
On Andre Silva: "He is hungry, he also cores. Today he has been able to exploit his characteristics, attack in depth. I've seen him much better than in other games, this match will give him a lot of confidence because he really needed it."
On Calhanoglu: "He has the necessary characteristics to play in all the positions, he can even play as a left winger in the 4-4-2, Calhanoglu is a very talented player and can easily verticalize putting his teammates in front of the goal. With Cagliari he did not express his best qualities."
On Andre Silva and Kalinic: "Great game from both of them, players who sacrifice a lot, they are fit for each other. Silva made a big leap forward, worked well with the team and held the ball. We had not seen him so far with this continuity."