Pioli explains massive players brawl at the end of the match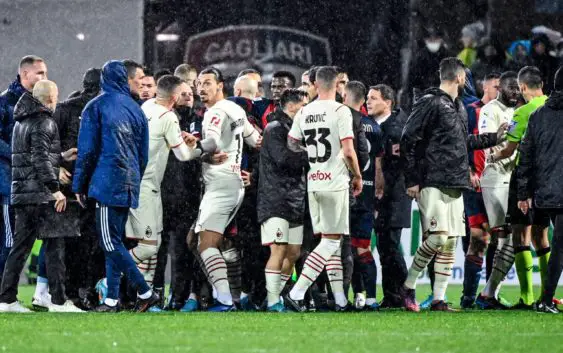 Coach Stefano Pioli talks about
AC Milan's 
import win against Cagliari and the massive players brawl at the end of the match.
AC Milan secure another hugely important win that puts them ahead in the race for the Scudetto. A single goal from Ismael Bennacer was enough to defeat Cagliari and get the three points. The Rossoneri manage to exploit Inter's misstep and widen the distance with six points. Coach Stefano Pioli was obviously happy with the Victory and explained what caused the massive player's clash at the end of the match.
The coach's words: "An important victory, all the matches represent a difficult crossroad. I liked the team, we played with intensity. An opponent who created difficulties for us but was inevitable. The best way would be to close the match earlier, the team is working hard without the ball with sacrifice. We are doing very good things, there are four teams that can win the Scudetto. Luck? These are journalists' things, there are still many games to go, needless to talk about what happen at the end ".
On the central position of the two full backs: "I am lucky to have two players like Calabria and Hernandez who are very intelligent. They read spaces well. We moved the ball very quickly, when you have players willing to sacrifice everything is easier. There is certainly a lot of merit from the players, now we have to continue to do better and better because we are having a good season but it is still long ".
"In the last few games we had missed the fact of trying to find other goals after having unlocked the match. Tonight I really liked the group, what matters is having a very specific mentality without thinking about the result. We had respect for our opponents and the lessons we had in the last few days helped us. We are devoted to attack, we always create dangers and this also leads us to defend better. My players like to play this kind of football".
The massive brawl at the end of the match: What happened at the end was because of insults towards Maignan. Mike confirmed that they were racist insults . I'm very sorry about this, no one deserves any kind of insult. It's the first time Maignan reacted like this, so something happened. Tomori also told me the same thing. Some things don't have to happen. "
Gli hanno lanciato tutto pic.twitter.com/OmREKpmEou

— 👾 (@mmpwrry) March 19, 2022
---
READ MORE: Maldini blasts midfielder: "He is not Rijkaard"