Calhanoglu gives advice to struggling Hauge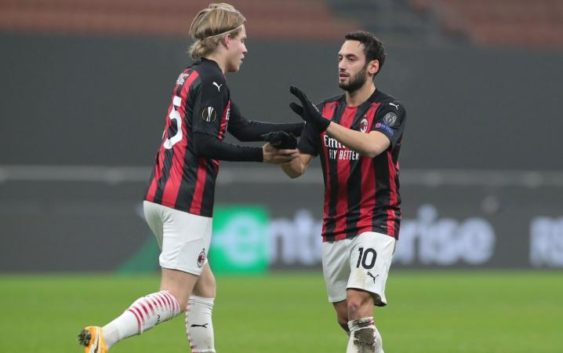 AC Milan winger Jens Peter Hauge is experiencing a dip in form after a great start to life at San Siro.
Hakan Calhanoglu was interviewed by the Norwegian portal vg.no to talk about his teammate Jens Petter Hauge. The 21-year-old winger has been used sporadically by coach Stefano Pioli in the last period. Hauge has made 23 appearances with the Rossoneri scoring 4 goals.
Should Hauge go on loan to play continuously? "It's a question for his agent. But if you ask me, I'll tell him to stay and fight to get into the team. He has a lot of quality and if he works hard and does his best, he can become part of the starting line-up".
What do you think of Hauge? "First of all I want to say that I like Jens as a person, he's a nice guy. He's young. It's a big step for him to move from Bodo Glimt to AC Milan. He needs time to play in the first team. But when he is given the chance, he always does a good job. He works a lot and I have faith in him. He has a great talent. I'm very happy to play with him".
How did the AC Milan players react to the fact that he came straight from Bodo Glimt and initially managed to make a difference in such a big club? "I was not surprised. It is easier for a player to play in a better team, there is more quality. It made things easier for him".
What do you have to do to become part of the owners? "He has to work. He has to believe in himself. It is not easy to play in the starting line-up, we have many quality players, so he has to take his time. He has to work more on tactics and on what the manager asks of him, but his time will surely come".
---
READ MORE: AC Milan convinced to make €30m first summer signing