CIES: Transfer values per club, Milan 17th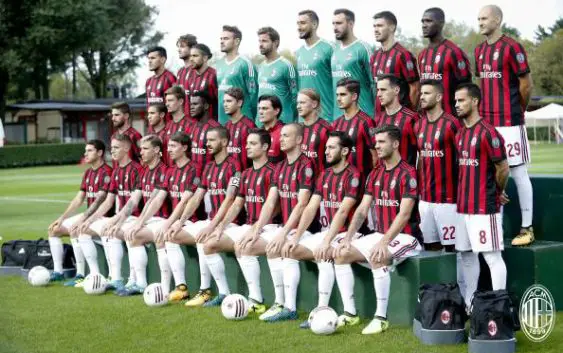 AC Milan have increased the value of the team after the 2017/2018 summer transfer window with some important and talented young players arriving at San Siro. 
CIES (International Center of Sports Studies) ranks big-5 league teams according to the estimated transfer value of their players. AC Milan are ranked 17th with an overall value of 457 million euros. Young goalkeeper Gianluigi Donnarumma leads the internal classification considered to be worth 59 millions.
Transfer values are estimated on the basis of the algorithm exclusively developed by the CIES Football Observatory research team. According to this, Manchester City's current squad has a total transfer value of almost €1.2 billion. Kevin de Bruyne is the potentially most expensive Manchester City player (€144.5 million), while three other City's squad members are worth more than €100 million: Leroy Sane, Raheem Sterling and Gabriel Jesus.
Following in second place are Tottenham with 1,173 billion (Harry Kane 186) and Barcelona with 1,130 billion (Luis Suarez 134). Real Madrid (Cristiano Ronaldo 96) are sixth, behind Chelsea and Manchester United. Paris Saint Germain of Neymar (218) are worth 884 million. Bayern Munich arer ranked thirteenth at 624 million.
The first among Italians teams is Juventus, tenth with 743 million and Paulo Dybala, who is awarded a price tag of 166 million. Napoli are eleventh with 721 million (Lorenzo Insigne 105). Fifteenth Roma with 595 million (Radja Nainggolan 75). Inter is eighteen, just behind Milan, with 445 million worth and a Mauro Icardi worth up to 95 million.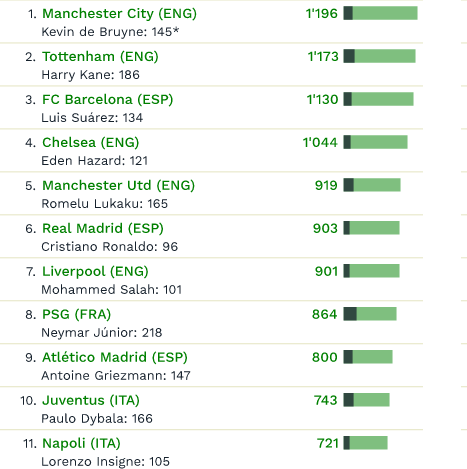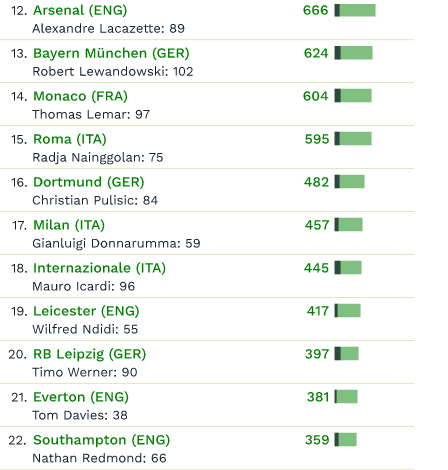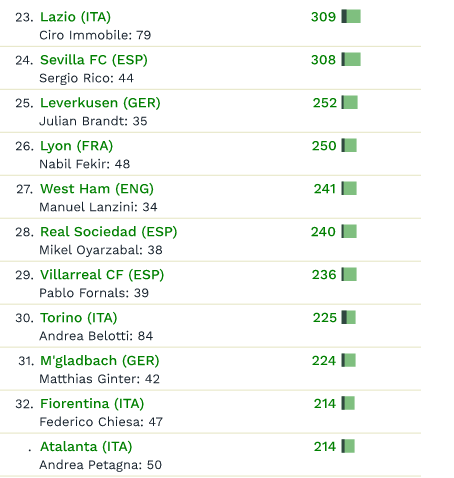 ---
---