Craiova vs Milan player ratings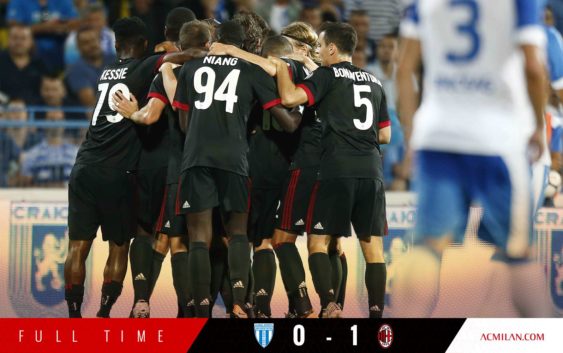 G. Donnarumma 6,5: When he sees Mitrita coming, he has to choose immediately what to do. The Rumanian striker shots, but he first reads the trajectory and makes a great save. Beautiful even his celebration on Rodriguez's goal.
Abate 6: At the start of the match he was supposed to help Rodriguez push forward then Montella asks him to contribute more for the defense.
Zapata 6,5: He needs time to adopt with Musacchio, but the two are very good together and they do not mistake a single ball.
Musacchio 6,5: Mitrita is fast but he is able to slow him down and disbalance him in front of the goal. Afterwards he is a wall and the opponents can't pass him.
R. Rodriguez 6,5: From Ricardo Kaka to Ricardo Rodriguez, the outcome is definitely different. His free kick gives Milan the victory. When he pushes, his presence is felt. Not only, he contributes a lot in defense.
Kessie 6,5: Franck The Tank dominates his zone and holds it well, even when he starts to lose energy. Overall he makes a great match because when he has the ball between his feet, he is hardly mistaken.
Montolivo 5,5: An error from him side puts Mitrita in front of Donnarumma. He never changes the pace of the game and often plays with his face toward his own goal.
Bonaventura 6: He is looking to find his optimal fitness and when the legs support the mind, he always gives interesting plays.
Niang 6: It is true that he changed so many roles throughout the game, but it is also true that he often makes big mistakes. He wants to find the goal from long distance and often ignores Cutrone who is better positioned.
Cutrone 6,5: Calanca denies him the delight of the goal in his debut in Europe with a great save. He chose good but his shot hit the post. He was AC Milan's most dangerous player on the pitch.
Borini 6: In the beginning he does not convince, so much so that Montella reverses his position with Niang. From right wing, he assists Cutrone and wins the free kick transformed in goal from Rodriguez.