Donnarumma-Mirabelli meeting: the situation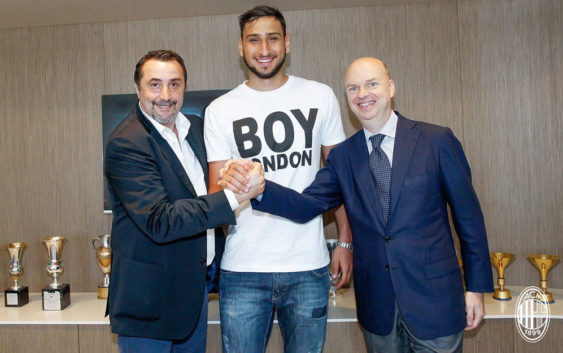 Italian media reports of renewed frictions between Mirabelli and the Donnarumma family and the imminent arrival of Pepe Reina has not helped their relationship.
Although tomorrow is the return leg of the Europa League round of 16, the future of Gianluigi Donnarumma continues to be an even more hot topic in the Rossoneri home these days. As Corriere della Sera explains this morning, cooling the relationship between the family of Gigio and Massimiliano Mirabelli in recent months was the role of the elder brother Antonio but in the last hours the imminent arrival at of Pepe Reina at Milanello has made everything even more complicated.
What happened in the last days, with the Spanish goalkeeper performing medical tests on Monday, could lead Donnarumma to think that he was being offered for sale. A very convenient situation for his agent Mino Raiola who just needs a good excuse to start negotiations for Gigio's sale in the summer. However, AC Milan have no intention of selling the young goalkeeper and even other top players.
Sports director Mirabelli has communicated the club's intentions to Donnarumma himself in a head-to-head meeting in the last few hours. Massimiliano Mirabelli informed him about the arrival of Pepe Reina and reassured Gigio that the Rossoneri have no intention of selling Gigio unless he asks for it.
In addition to Gigio, there was also a meeting with Reina to whom Mirabelli explained that if Gigio remains, it will be the Spaniard's duty to act as his second. The club is preparing for every outcome, whatever the case the Rossoneri will have a very strong line of goalkeepers for next season but hopefully we won't be just at the beginning of another long soap opera.
---
---