Five reasons why AC Milan will qualify for Champions League this season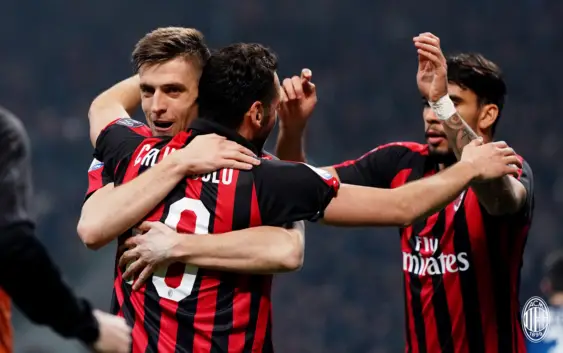 Despite the difficult moment AC Milan are going through there are good reasons to believe in Champions League qualification for next season.
After two days of endless controversy, the time has come for the Rossoneri to set aside everything that happened in the match against Juventus and start thinking about Saturday's decisive encounter at San Siro against Lazio. It is a direct clash for a place in Champions League and therefore it is a game that absolutely needs to be won. Despite the defeat, AC Milan proved to be a living team in Torino and, according to La Gazzetta dello Sport, there are five important reasons to believe in qualification for Champions League next season:
GAME MANEUVER – Against Juventus, away from home, Milan demonstrated obvious improvements in terms of play compared to previous games. The play was better, the center forward was more involved and Milan moved on the wings dangerously. Something we hadn't seen for a long time.
THE SPIRIT – Coach Gennaro Gattuso really liked the attitude with which his boys entered the pitch against Juventus. In particular, the Milanese coach appreciated the fact that his team played without anxiety and never gave up until the last minute.
THE COACH – After weeks of rumors and gossip, after Juventus-Milan, Leonardo used words against Gattuso that he had never used before. "We chose to go ahead with Rino and we are very happy with him. We have never thought about replacing him, he has a long-term contract and we will continue together. It would be great if we win something with him on the bench", confirming that at Casa Milan there is no Gattuso issue.
PIATEK – The Polish bomber continues to score with continuity, so much so that since he arrived at Milan he scored more than the rest of the team (10 goals against the 9 of his teammates). Kris Piatek's impact is simply devastating and no one remembers Higuain anymore.
THE FANS – Despite the complicated moment, with only one point in the last four games, there is no lack of enthusiasm among Milan fans. Yesterday, the club announced that 52,000 tickets have been sold so far for Lazio's Saturday match, while 30,000 tickets had already been sold for the Coppa Italia semi-final against the Biancocelesti. At the decisive moment of the season, the fans and their unconditional support can be AC Milan's secret weapon.
---
---