4 Reasons why Mandzukic is a great signing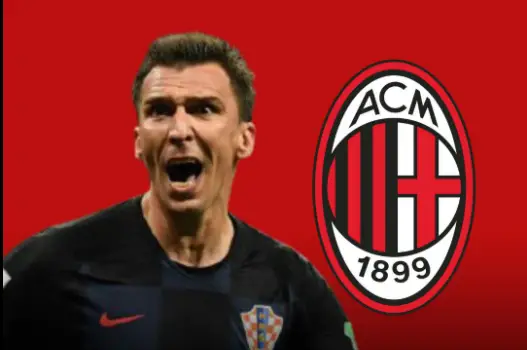 AC Milan are about to close the signing of

Mario Mandzukic. There are four reasons why his arrival is a great news for the Rossoneri.
Mario Mandzukic is very close to joining AC Milan. The Croatian striker has been linked with the Rossoneri for many months and this time talks seem to be progressing in the right direction. After frequent contacts in recent days between Maldini, Mandzukic and his agent Branchini, the 34-year-old is expected to sign a six-months deal with the Red and Blacks.
According to reports, besides the six-month contract, Milan will have an option to renew Mandzukic's contract for another season. The striker is currently a free agent after terminating his contract with Al Duhail. The former Juventus has rejected offers from other European clubs favoring a move to Milan. While the fans are a bit dubious due to his period of inactivity, there are those eager to see Mandzukic combine with another "beast" like Zlatan Ibrahimovic.
We are aware that a name like Mandzukic divides fans but there are good reasons why AC Milan should sign him. First of all, there is the economic aspect. In a market with limited spending capabilities, for known reasons due to the lack of revenues for the pandemic, Milan would secure an experienced striker on a free transfer and with reasonable wages of around 1.8 million euros. The arrival for six months would allow the management to evaluate his impact and decide calmly if in the remaining part of the season he will contribute enough to merit the renewal.
From a technical-tactical point of view, the signing of Mandzukic would offer Pioli a very valid alternative in attack. The Croatian is in fact the ideal replacement for Ibrahimovic as centre forward, a role not exactly natural for Leao or Rebic. At the same time, Mandzukic, as demonstrated during his period at Juventus, can also be deployed on the wings. Mandzukic's "weight" and physicality in attack can be widely exploited during the game or in the final stages of matches in which it is necessary to recover or unlock the result.
Positive technical-tactical aspects that are accompanied by the temperament-mentality of the Croatian, in this sense a real alter ego of Ibrahimovic. In his years at Bayern and Juventus, Mandzukic has always shown a disposition oriented towards results, towards competition. A real leader able to drag his teammates and excite fans. In short, Mario wants to win. The latter characteristics are quite necessary in the current moment of AC Milan who are very well positioned in the league and aim, at least, a place in the top four to regain the Champions League after 8 years.
Finally, there is Mandzukic's desire to get back in the game thus refusing numerous lucrative offers. The Croatian wants to relaunch himself in a top league and prove his worth again. A personal challenge for Mario. According to Tuttosport, in the period of inactivity, the 34-year-old has been training constantly and should be ready to contribute immediately. Milan is waiting for him.
---
RED MORE: AC Milan complete first January signing