Ibrahimovic reveals he scolded Kalulu in his debut match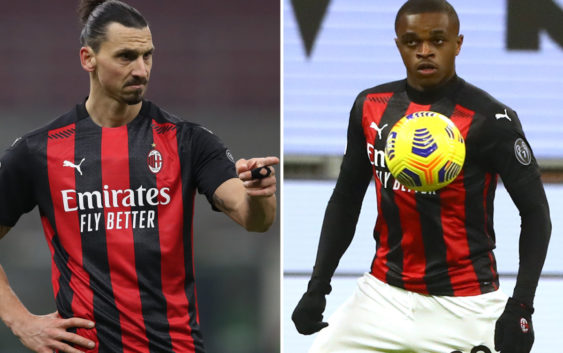 The most important transfer news of the day.
Ibrahimovic reveals he scolded Kalulu in his debut match
In an interview with La Repubblica, Zlatan Ibrahimovic reveals how he forced Pierre Kalulu to take off his gloves on the day of his debut with the Rossoneri: "It was his debut match and it was very cold. He was wearing gloves. I told him to take them off immediately! "How looks a young centre back making his debut with gloves?Someone who makes his debut so young must scare the strikers. The first image is what counts".
Pato wants Milan return
In an interview with La Gazzetta dello Sport, Alexandre Pato admits that he misses the times he spent at Milan: "Of course, how could I not. We are talking about 150 games, 63 goals, one Scudetto and a Supercoppa. It would be a dream to return to AC Milan, which remains in my heart".
Obviously Pato is asked if he would return to wear the Rossoneri jersey to become Zlatan Ibrahimovic's back-up. His answers in positive and the 31-year-old believes he could be much more than be a simple alternative to Ibrahimovic. "I would say yes, what's the problem? But I wouldn't go to be a back-up. I would play, a couple of games would be enough to convince the coach. Let's say that maybe with Ibra we could play together. We would be a great duo".





Pato said that Ibrahimovic is a source of inspiration for what he can do at 39. The Brazilian also praised Stefano Pioli, the coach who is doing great things with the Rossoneri. "Luckily the club trusted him. He knows how to manage Ibra, the whole group, relations with the club. Dreaming of the Scudetto is legitimate. Pioli is the right coach for a Milan that will go a long way. If he wants, he can call me…".
The 31-year-old striker revealed that he is still in contact with Paolo Maldini, with whom he was a teammate. Nevertheless, it looks like the Rossoneri are not considering the candidacy of Pato with Mario Mandzukic set to become a new Milan player very soon.
From France AC Milan to make shock return for Mohamed Simakan
According to reports from France, AC Milan could make a surprising return for Mohamed Simakan. The Rossoneri could buy the player immediately and leave him on loan until the end of the season at Strasbourg so the 20-year-old could recover without hurry reports Le10Sport.com.
However, Milan would like a discount on the price tag. The offer of 15 million euros plus 3 in bonuses had not convinced the French club who were was asking 20 million for the sale of Simakan. Now, RC Strasbourg could be pleased with just 15 million in total.
Soualiho Meite signs

AC Milan contract
Soualiho Meite has just left Casa Milan in these minutes. The central midfielder has signed a six-months contract that will bind him to Milan for the remaining of the season. The club will make an official announcement in the next few hours
Milan have payed one million for Meite's loan and will pay 8 million to Torino if the choose to make Meite's transfer permanent at the end of the season plus 1.5 million in bonuses.
#Meite uscito ora da Casa Milan dopo la firma sul contratto. pic.twitter.com/ktqIhz0kDm

— Gianluigi Torre (@TorreGigi) January 15, 2021
---
READ MORE: AC Milan change transfer strategy