Gattuso: "Higuain, he's the best in the world. Atalanta?…"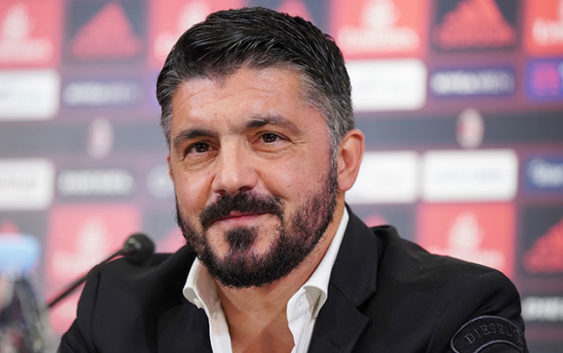 Tomorrow AC Milan host Atalanta at San Siro, a difficult encounter for the Rossoneri who must bounce back with a win after the fiasco against Cagliari.
It's the eve of AC Milan v Atalanta and at Milanello Rino Gattuso previewed the San Siro match answering the questions from the media. The boss commented on the upcoming game and reflected on the Europa League game won against Dudelange and the draw in Cagliari analysing the pros and the cons of the two games.
ON ATALANTA
"Atalanta are a solid team and can be difficult to play against. They want to bounce back after the two defeats in their last two outings. We need to play a really good game. Every year Gasperini signs the same type of players to play like he wants to. They press high up the pitch and we have to do well to trouble them".
THE PERFORMANCE IN EUROPA LEAGUE
"I was worried before the game vs Dudelange because they knocked out two good teams before playing against us. They don't have many resources but they but they could have caused us some trouble. We also made lots of changes to our lineup and we knew it wouldn't be easy. We could have done better but we won and this is what matters. I changed a lot because I believe in all my players, we have a deep squad".
SERIE A AND THE TEAM
"Now, let's focus on Atalanta, only after this game we will start preparing for Empoli and Sassuolo. I watched the match (Sassuolo v Empoli) yesterday and it won't be easy to beat them. We made a few mistakes in Cagliari, the worst was our approach to the match. The league has only just started but the more games we win during this period, the better. Every game is important. We mustn't leave anything to chance".
HIGUAIN
"Higuain plays deep, helping us move the ball, but I want him to run behind defence more, putting more pressure on the defenders in the final third. I consider him the best striker in the world, he scores goals, he helps the team, he's a top player. We need to take advantage of his qualities, we need to play with our heads up and give the ball to him. I hope he can play in every game. Higuain and Suso need to get to know each other better on the pitch, we are working on it".
THE INDIVIDUALS
"Caldara played a really good game in Europa League, he can be of great help to the team. Calhanoglu didn't do well at Cagliari, but he was the man of the match against Roma. I was pleased with Bakayoko's performance in Luxembourg. I always want more from him, to play inside
the box more often. I want Suso to shoot more on goal, to play inside the box and in the final third. We'll see if Cutrone can make it for tomorrow, his ankle is still bothering him: he can't wait to be back in the fold. Borini can play as striker, so, no, I'm not worried about having only two centre-forwards in my squad. Montolivo has only just recovered from an injury but I have made my decision and I don't need to explain it. Bertolacci can do a lot more, he struggled a bit but it wasn't easy. Musacchio is fine and fit to play".
AC MILAN'S DEBUT IN WOMEN'S FOOTBALL
"Good luck to our girls. Carolina Morace and I talk a lot, she's a true manager, very curious and passionate. It's always a pleasure to talk with her about football. I hope they will play a great season".
BUY AC Milan Home Jersey 2018/19 
– Free shipping