Gazzetta: AC Milan and Juventus are negotiating for 5 players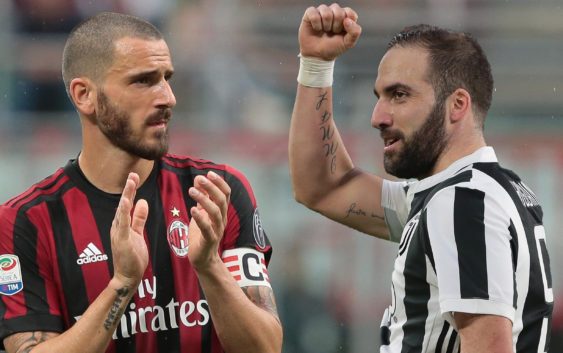 Negotiations between AC Milan and Juventus are progressing at a crazy speed with 5 players part of the discussion. 
AC Milan have finally started to move on market are are plotting a big operation with Juventus. All started the desire of Leonardo Bonucci to leave the Rossoneri club after just one season at San Siro and return to Juventus. And so, yesterday afternoon, there was a meeting in Milano between the soon-to-be technical director of Milan, Leonardo, and the Bianconeri managers Marotta and Paratici, where the Rossoneri captain was just one of the many players that the two parties are negotiating for.
BONUCCI TO LEAVE – La Gazzetta dello Sport reports this morning that AC Milan are open to the sale of Bonucci to Juventus, but want to include a Juventus player in the negotiations. The Rossoneri particularly like Gonzalo Higuain and Mattia Caldara, with the second that is seen as the perfect replacement for the Milan captain. The Rossoneri are also considering the Argentine striker, even if at the moment there is no agreement between the two clubs on the evaluation of the player. The Bianconeri ask for 60 million euros while Milan are willing to offer 50 at most.
CALDARA AND HIGUAIN – In the last hours, the possibilities that Mattia Caldara join the Red and Blacks have increased. Yesterday, his agent Giuseppe Riso met Marotta and Paratici several times in Palazzo Parigi. So far the young defender had always been considered unsellable by Juventus, but now the Bianconeri seem to be willing to offer the former Atalanta only if they manage to also place Higuain at Milan. The Turin club initially offered Benatia in exchange for Bonucci, but Milan said no. The new name being discussed in this operation is Marko Pjaca, a Croatian forward long sought in the past by Il Diavolo.
---
---