Gazzetta: Sampdoria-Milan, player ratings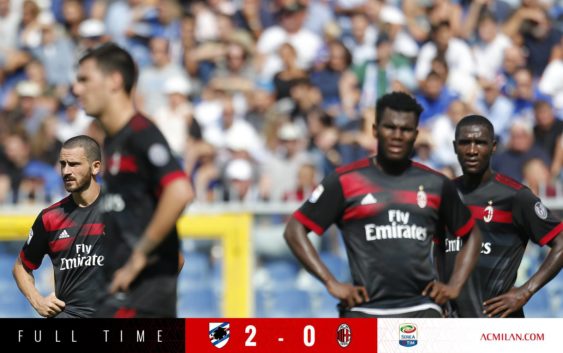 Unrecognizable the AC Milan the entered the field yesterday at Marassi, a very distant relative of the safe and concrete one able to secure full points in Europa League games and championship matches played in front of its fans in San Siro.
Sampdoria humiliate Vincenzo Montella's team, not so much in score as from game's point of view and motivation. The blues look much better suited for Champions League than the rossoneri who struggle to find and the ideal tactical set-up to express themselves to the best (read here the analysis). So many flops among the many Milan individuals on the field yesterday.
As usual, La Gazzetta dello Sport has published the ratings assigned to all Milan players, who yesterday showed all their limits. Low ratings for the Rossoneri, starting with the worst two on the field. 4 rating for Cristian Zapata, disastrous in defensive and guilty on the first conceded goal, and Franck Kessie impalpable in midfield thanks also to the fierce pressing of Praet, capable of undoing the Ivorian.
Ugly performances also from Leonardo Bonucci, in identity crisis after another underwhelming test. Out of match Ignazio Abate and Giacomo Bonaventura, far away relatives of the aggressive and quality players we are used to see and that Milan fans appreciate so much. The same evaluation for Jesus Suso who continues to suffer the change of role from classical winger to trequartista. Sufficient enough ratings only for two players: Gianluigi Donnarumma who is saved thanks to some precious saves and Ricardo Rodiguez showing at least desire and some interesting movements in front.