Giacomo Murelli, the AC Milan coach for next matches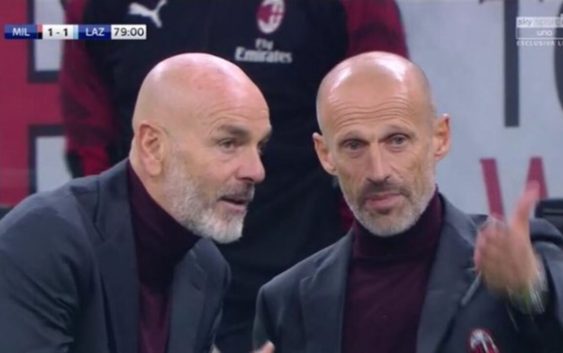 Stefano Pioli's assistant manager Giacomo Murelli will likely lead AC Milan in the next match against Napoli.
One of the classic football pairs is the one made up of coach and his assistant. Having a trained and quality staff, for a professional coach, is very important above all in the difficult preparation of a match. The football stunt double of Stefano Pioli, the Rossoneri coach for just over a year, is called Giacomo Murelli.
If before today his profile had been unjustly mentioned a few times, for some hours the name of Murelli has become a hot topic in the Italian media due to the Coronavirus positivity of Pioli that in all probability will force him to skip the next matches with Napoli and Lille reports MilanNews.it. But who is Pioli's right hand man? Like many of his colleagues, Murelli had a past as a footballer before sitting on the bench.
MURELLI FOOTBALLER – Born in 1964, he grew up in the Parma youth sector with the current Rossoneri coach. There the two met and shared the entire path of football growth up to the first team. After Pioli's transfer to Juventus, Murelli continued his career in the Italian football province between Avellino, Parma, Tarano, Bologna, Brescello, Crociati Noceto, Colorno and Suzzara.
In one of his most important adventures, the one with Avellino, Murelli earned the nickname of Anti-Maradona by virtue of his ability to mark the Argentine champion in the clashes between Napoli and Avellino and Maradona managed to score only on one occasion.
16 YEARS OF COLLABORATION – After retiring from football in 2002, Murelli began coaching right where his football experience had ended, at Suzzara. In two years with Suzzara he achieved promotion and won the Italian Amateur Cup and an Italian Amateur Super Cup. After his experience with the Bianconeri, Giacomo Murelli went to Modena in 2003 where he joined Malesani's technical staff. At Modena his path crossed again with Pioli who was appointed as Malesani's replacement.
Murelli was promoted to assistant manager and their coexistence has continued ever since. Murelli has followed Pioli at Parma, Grosseto, Piacenza, Sassuolo, Chievo, Palermo, Bologna, Lazio, Inter, Fiorentina and of course AC Milan. Sixteen years of continuous collaboration and great harmony that has brought the two to lead some of the most important Serie A clubs. In this year and a half, Milan fans have often noticed him side by side with Pioli. A permanent and constant presence that testifies the importance of Murelli in the growth of the Rossoneri team and who at all probability will lead AC Milan in an insidious away match against Napoli.
---
READ MORE: AC Milan and Inter considering sensational swap deal