Giroud greatly impressed by new AC Milan signing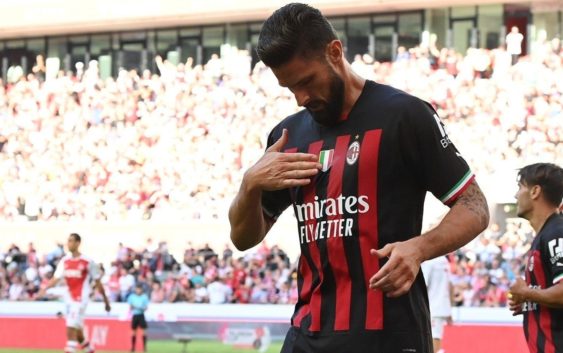 AC Milan striker Olivier Giroud is impressed by what he seeing from Yacine Adli. The French midfielder has joined Pioli's squad this summer
.
Olivier Giroud has started the new season in the same old fashion. The 35-year-old French centre forward demonstrated his class with a spectacular brace in the last friendly match against FC Koln in Germany. At the end of the match Olivier was interviewed by Milan TV.
The former Chelsea star was obviously pleased with the result and the goals. At the same time Giroud is really liking what he is seeing from new arrival Yacine Adli. "He always calls me, like a kid (laughs). I think it's important to do all the right things to give him a nice welcome.
Adli is a good guy, he knows he has to learn. I'm very impressed by his qualities, he can assist and also runs a lot. It's a nice addition for the team, he needs to calm down a bit sometimes (he's referring to a heated argument with an opponent at the end of the game) but he's a good guy and I am happy that he is here, in the great Milan".
There is a lot of enthusiasm at the club regarding Yacine Adli's potential. AC Milan purchased the 21-year-old midfielder last summer for a fee of €10 million, add-ons included, but him spent the season on loan at Bordeaux. Adli scored one goal and assisted eight in 36 league Ligue 1 appearances with Bordeaux.
Adli is considered one of the most highly-rated young players of French football. A product of PSG's famous academy, Adli left to play regular football at Bordeaux and after three years he's making a big career jump by joining the Serie A champions. A creative player that stands out for his accurate passing, he seems ready to make a big impression at Pioli after Giroud.
---
READ MORE: AC Milan complete €35m summer signing