"We are back", Giroud's interview after the derby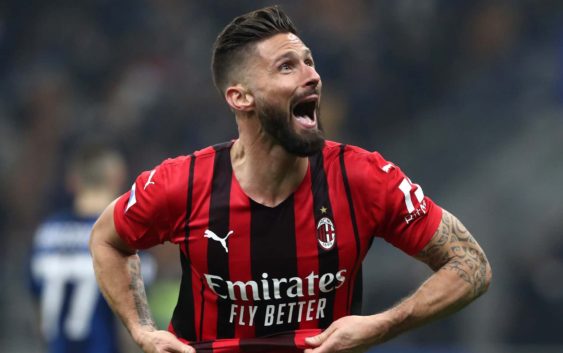 French striker Olivier Giroud decides the Derby della Madonnina in AC Milan's favor with a brace in the second half.
AC Milan win the Derby della Madonnina at the end of a breathtaking match full of emotions. The first half ended with the Nerazzurri in advantage with Perisic while Olivier Giroud overturned the result with a brace in the second.
The French striker was undoubtedly the Man of the Match. In a match where the Rossoneri failed to create a lot of opportunities, Giroud proved opportunistic in front of the goal. On the occasion of the first goal he was attentive to deviate Brahim Diaz's unprecise shot while the second goal was a piece of individual skill.
At the end of the match Giroud was interviewed by Dazn. "A derby is won. We were in trouble in the first half but in the second half we got back into the game. I was hoping for some balls to arrive in the box, it's great for our fans. I don't know what to say, I'm happy and proud of this team that didn't give up ".
The spirit of the squad: "I was a bit frustrated in the first half as was the whole team because we didn't play well. We know it. We showed great team spirit all together. We are back! Now the path is still long, we are in the running for the Scudetto but there are still many matches to play and Inter remain in the lead. Let's do things well, win and then see what they do", said Giroud.
Today's brace takes Giroud's tally to 7 goals (and 2 assists) in 15 Serie A appearances. The 35-year-old centre forward joined AC Milan this summer from Chelsea on a three-year contract.
---
READ MORE: Juventus tried to sign AC Milan striker in January