Hakan Calhanoglu will help Milan end Juventus dominance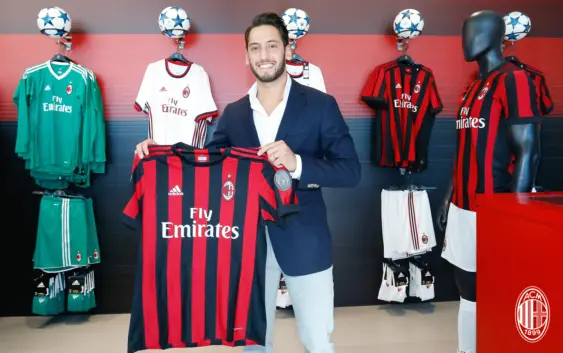 Turkish midfielder Hakan Calhanoglu is the sixth signing of AC Milan this season. The talented 23 year old is considered to be one of the biggest hits in the transfer market.
The rossoneri's signings in the summer transfer window have all been top notch. Franck Kessie and Andre Silva were two of the most wanted jewels in the transfer market but Marco Fassone and Massimiliano Mirabelli managed to bring them in San Siro. Till now the Chinese ownership under the guidance of Yonghong Li has spent roughly 130 million euros and is expected to spend around 200 millions. Musacchio, Kessie, Ricardo Rodriguez, Andre Silva and Fabio Borini were just the beginning. Hakan Calhanoglu is the latest addition ready to help Milan reach top 4 in Serie A and much more.
Prominent goalkeeper Gialuigi Donnarumma also has changed his mind about rejecting Milan and is expected to sign the renewal in the coming few days. Next season's team is going to be much stronger thanks to the clever signings by the new management. The Turkish attacking midfielder is an exceptional arrival able to boost manager Montella's squad fire power. The new team will be in comfortable position to score many goals this season and challenge Juventus for the Scudetto.
Juve have been dominant in Italy for the last six years winning six Scudettos and reaching the Champions League finale two times. After another disappointing Serie A season, Calhanoglu will be an integral part of the team to help them return on the top. He missed most of the past season due to a ban by TAS for a breach of contract relating to his time at Karlsruhe. Unfortunate, because up until that moment Calhanoglu had scored 6 goals and assisted 5 times. He has continuously been one of the best free kick tackers in the world. Only Pjanic and Leo Messi have fared better since 2014 but the Turk has played half a season less.
Calhanoglu is an assist machine, in the last three seasons he has provided 7 directly from set pieces. Goal writes that "The 23 year old will give the rossoneri the missing set-piece threat every time they receive a foul in the opposition half". Juninho is his main inspiration but he also studies carefully Cristiano Ronaldo, admiring his style. The attacking midfielder, able to play as central midfielder too, is a goal scoring threat from anywhere in the opposition half. He is a skillful pinpoint passer and possesses a magnificent shoot from distance.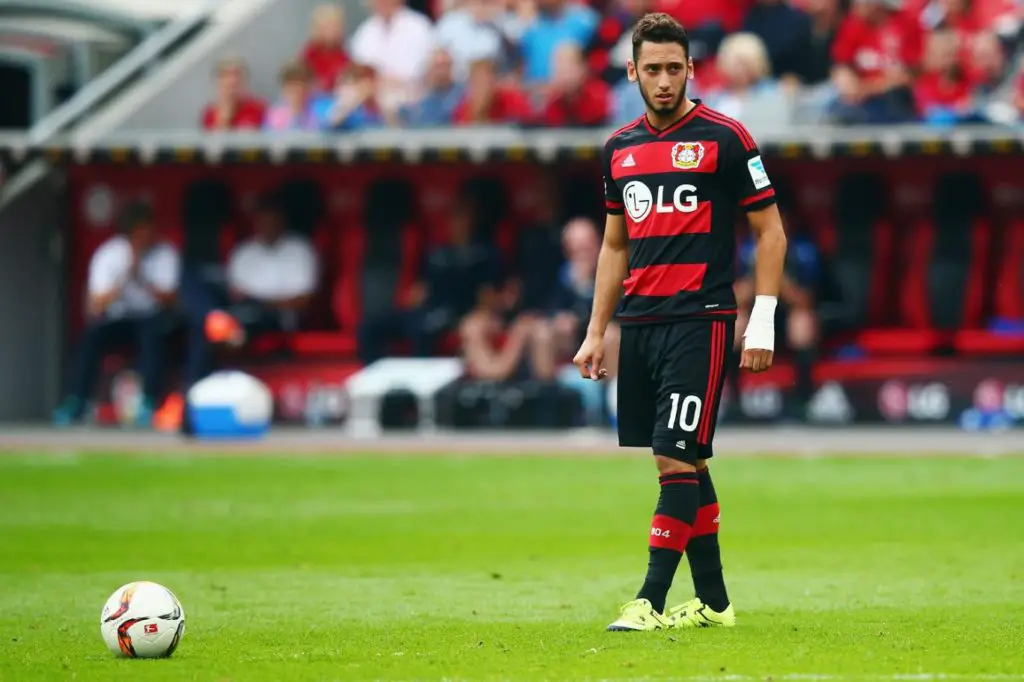 Along with his dead ball expertise, Calhanoglu is going to be an excellent attacking addition for AC Milan. Last season, in 15 games, Hakan Calhanoglu  scored 5 goals from open play and created 29 chances for his teammates. His passing accuracy is also to be envied. Upon his arrival in San Siro, Portuguese attacker, Andre Silva declared: "With the level of the team, i hope to win the Serie A, to win as many games as possible". A clear message for Juventus. With Calhanoglu's help up front ending Juventus dominance finally seems possible.