Higuain, premature flop: With 36 million which top striker could Milan sign instead?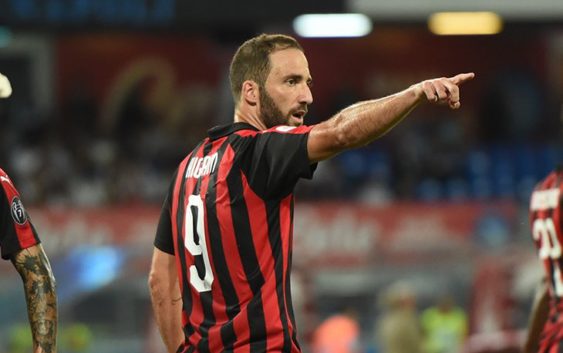 Despite his 7 goals and 3 assists the permanent signing of
 Gonzalo Higuain seems to be in danger. But can AC Milan really purchase a better striker with 36 million euros?
The goal scoring anemia, combined with performances far from past glories, has questioned something that seemed almost obvious: the permanent signing of Gonzalo Higuain from Juventus. In the last hours there are many who doubt him, although AC Milan has already paid 18 million euros to Juventus plus the hefty salary of El Pipita of about nine million net per year.
His total cost is around 36 million euros for this season. To purchase Higuain from Juventus, Milan would need another 36 million, to which should be added the salary of the Argentine striker. The problem is "simple", with a similar figure, which (big) striker could AC Milan sign instead?
THE COST OF A TOP CENTRE FORWARD – The investment on Higuain would obviously "lose" because it is clear that no club (in the following years) would buy the 31 year old former Real Madrid and Napoli star for a figure close to what Milan will spend. A consideration that Gazidis will certainly keep in mind before agreeing to sign the Argentine, given the financial constraints imposed by UEFA.
However, as noted above, if Higuain's transfer doesn't become permanent, Milan should still replace him with another striker. And if this new centre forward is young, the cost of his services could rise above 50/60 million, with a salary not very inferior compared to El Pipita. And if Milan don't play in Champions it would be almost impossible to attract talents of these levels.
Gonzalo Higuain
PREMATURE FLOP – It would therefore be appropriate, at this moment, to concentrate on the pitch and not on hypothetical future decisions of the Rossoneri club. Higuain has plenty of time to make up and, possibly, qualify AC Milan for next season's Champions League campaign. At that point, the confirmation of Higuain would be guaranteed, because, regardless of this negative period, the former Juventus remains one of the best strikers of Serie A in recent years. He must and can certainly do more, but considering him a flop already in December would be harmful for the player and for Milan too.
---
---