It's already a Milan in "Gattuso style"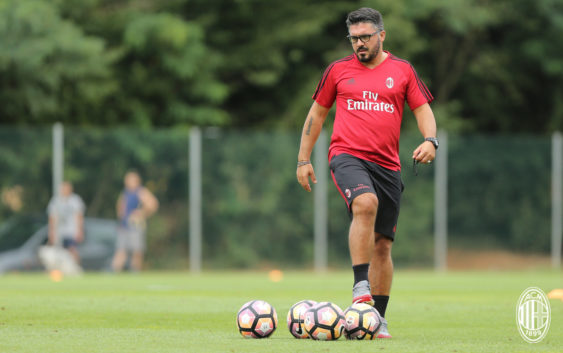 It's already a Milan in "Gattuso style": pressing, sacrifice and defense will be the principal lessons of the new rossoneri coach.
In the last week, Gennaro Gattuso has beet at the center of attention for his explosive character, his way of understanding football very tied to grit and sacrifice and for the emotional shock that he must give to AC Milan.
But as La Gazzetta dello Sport reports today, his debut as a first-team coach against Benevento is approaching and at the same time predictions increase on what will be the tactical strategy of the rossoneri on the field with Gattuso. To find out, we just need to have a look at a seasonal match of Primavera, for example AC Milan vs Juventus of last November 18, the only one lost by the young rossoneri in the last two months but for the value of the opponent can be a valuable example.
All the characteristics of game and attitude desired by Gattuso come to surface: first of all, the coach is always on the sidelines, he makes himself heard with shouts and alarms typical of his being. Tactically, Milan was deployed with a very balanced 3-4-3, with the attackers much more involved in the defensive phase and ready to press the opponents for the ball. The defense is the strong point of Rino Gattuso's scheme, so much so that it becomes a five defenders line in non-possession. So much sacrifice on the part of all eleven rossoneri on the field and also ductility in the schemes: against Juventus, Gattuso moved the centre back El Hilali in midfield to pass at a defense of four.
---
---