Kalinic controversy, Fiorentina react harshly and Milan respond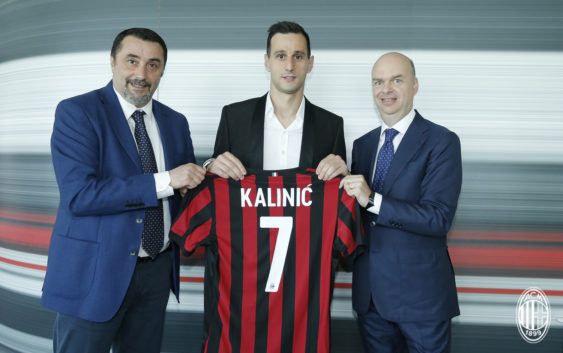 Fiorentina reacted harshly with an official statement after SD Mirabelli's joke regarding Kalinic's transfer. The rossoneri responded immediately clarifying the situation. 
Nikola Kalinic's presentation day did not lack controversy. Provoking was a phrase in ironic tone pronounced by Massimiliano Mirabelli. AC Milan's sports director invited the Croatian bomber to score many goals, otherwise they would return him back "there", that is to Fiorentina. The purple club did not take well this Mirabelli's expression and issued an official statement regarding the matter.
The statement was released on the Violachannel.tv site: "ACF Fiorentina expresses astonishment and dissent for the tone used by AC Milan's Sports Director Massimiliano Mirabelli during the presentation of footballer Nikola Kalinic.
The terms used by the rossoneri manager, speaking of the possibility of returning the Croatian footballer to Fiorentina, using a derogatory "there", appear totally out of place and definitely avoidable.
We would like to remind the SD Mirabelli that Fiorentina is an important club in which have played champions that have made the history of football and that this club represents Florence, one of the most beautiful and known cities in the world and therefore deserves and demands, today and in the future, a strict respect. "
Minutes later the red and black club issued a statement: Following the official communication by Fiorentina regarding the words of our Sports Director and Head of the Technical Department at the time of Nikola Kalinic's signature, judged "out of place and avoidable", AC Milan intends to share the following statements by Massimiliano Mirabelli: "I have only great esteem and admiration for Fiorentina, its ownership, its managers, its fans. If someone perceived a lack of respect in my words, i apologize. I think it was obvious, judging by my tone, my expression, and even the body language, that what i said did was only a colloquial joke, certainly not a content of denigratory tone."
Il momento del "Passiamo alle cose formali" con Nikola Kalinic! 🤝🔴⚫#Kalinic has penned his contract at Casa Milan! 🖋#welcomeKalinic #NK7 pic.twitter.com/b629lRbqw7

— AC Milan (@acmilan) August 22, 2017